India's harsh lockdown has left companies grappling with temporary closure, chaotic supply chains and depressed demand. Consequently, business plans have been modified.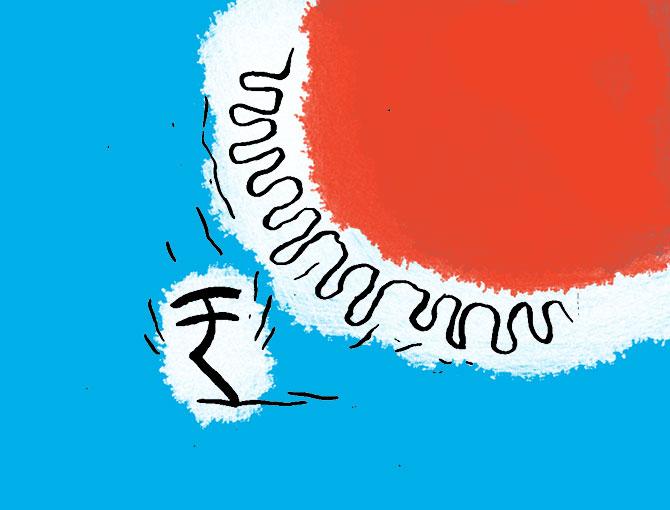 The COVID-19 pandemic has prompted India Inc to press the reset button on business plans and one obvious choice is to freeze capital expenditure for growth in the near term.
India's harsh lockdown has left companies grappling with temporary closure, chaotic supply chains and depressed demand.
Consequently, business plans have been modified.
As corporate India steps into the next phase, with possibly more relaxations, the emphasis is on conserving cash to ensure liquidity in an environment riddled with challenges.
Tata Steel MD and CEO T V Narendran said the focus was on deleveraging over growth.
In capex, Tata Steel's priorities are set.
"The focus will be on safety and health-related capex and sustenance capex, then cost improvement-related capex before we come to growth related capex," said Narendran.
Sunil Duggal, group CEO at Vedanta, said conserving cash was the priority.
"When the situation normalises and commodity prices start moving upwards and once we see demand returning is when we will plan the capex."
Vedanta's capex plans on the drawing board, including those that had completed feasibility studies, amount to $3-4 billion over the next three to four years.
Some expansion projects scheduled for completion have been put on hold.
At the Steel Authority of India (SAIL), the FY21 capex plan worth Rs 4,000 crore is under rework due to a drop in the availability of resources.
The plans included capex for downstream, as well as expansion and modernisation.
"The assessment is going on. We do not know when things will normalise," said SAIL chairman Anil Kumar Chaudhury.
The brakes were applied on the FY20 plan too, which comprised Rourkela's hot strip mill of three million tonne capex.
It was scheduled for completion in March but COVID-19 put paid to that target.
"The capex for Bokaro was on the verge of completion but had to be left half way," said Chaudhury, adding for the FY21 capex, there was no visibility on when foreign technical experts involved in projects would be able to travel to India to visit the plant.
Similarly, JSW's Dolvi expansion aimed at doubling crude steel capacity to 10 million tonnes was to be completed by end-September but is now likely drag on to December due to the lockdown.
The capex for the current fiscal is likely to be taken up by the management shortly, indicated sources.
For metal companies, the slowdown that consumed most of last year had in any case prompted a recalibration of capex.
According to ICRA estimates, the likely capex incurred in India for steel companies in 2019-2020 was close to Rs 23,000 crore; the budgeted capex, however, was higher by at least Rs 5,000-6,000 crore.
For non-ferrous metal companies (only domestic operations), it was close to Rs 5,500 crore.
"The total capital expenditure incurred by Indian metal companies for their domestic operations in 2019-20 had to be revised downwards from the originally budgeted levels because of weaker than expected profits and cashflows.
"In the current year, the capex incurred is likely to be even lower, given the current uncertainties in business environment on the back of the virus outbreak," said Jayanta Roy, senior vice president, ICRA.
The financial prudence is not confined to metals, it is across sectors.
Jyoti Kumar Agarwal, director finance, JSW Energy, said all non-essential, discretionary capital or revenue expenditures had been put on hold.
"We would prefer to preserve capital till the situation improves and we get better clarity on the new normal," said Agarwal.
Part of the firm's organic expansion plans was a hydro power project in Kutehr in Himachal Pradesh.
In cement, Shree Cement has been adding three to four million tonnes a year for the last five to six years.
"Now we are deferring our production increase related capex. However, investments related to increasing efficiency will continue," said Shree Cement MD H M Bangur.
State-run oil companies, however, are still in wait-and-watch mode.
"At present, work for development at refinery expansion related projects is going on. The challenge is labour.
"I expect oil companies to review their refinery expansion/upgradation plans in seven to eight months.
A clear trend of what is the new normal demand for refining will take some months to emerge.
"It is too early to decide on changing expansion plans," said a senior official from one of the three state-run oil marketing companies.
The combined capex of state-run oil companies was Rs 98,955 crore in FY20, according to Petroleum Planning & Analysis Cell data.
Companies like Adani Transmission and Adani Gas, however, plan to go ahead with their capital expenditure for FY21.
But they are more an exception than the rule. As more companies opt for a break from major capex programmes, the impact will be felt on the economy, as ICRA's Roy pointed out.
"Lower capex by the industry or lower developmental expenditure by the central and state governments will have adverse implications for India's future economic performance," he said.