Nilesh Veera, director of APMC said, complained that availability of workers is a big problem. They have asked the government to provide enough sanitizers, masks, etc, for worker safety, to call them back. There has been no reply.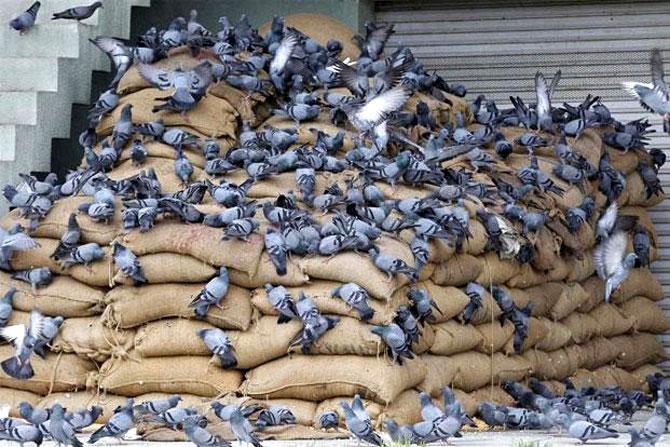 Essential commodity markets are facing the challenge of labour availability and transport.
If such disruptions continue, availability would be an issue, say market leaders.
In Mumbai, daily grain offtake had recently doubled to 100,000 bags of 30 kg each a day.
Now, after the lockdown implemented across states, transporters say after they've brought grain from the producing centres, how are they to prove when the vehicle returns that it was used for only essential commodity delivery?
Also, many complain of non-availability of drivers.
The wholesale market at Navi Mumbai is closed till Tuesday and could also be shut on Wednesday, as workers have left for their home home towns or villages.
"Availability of workers is a big problem. We asked the government to provide enough sanitizers, masks, etc, for worker safety, to call them back. There has been no reply," complained Nilesh Veera, director of the APMC (wholesale centre).
A representative at the market said there was enough stock for lifting but the problem was lack of workers, as also multiple roadside vegetable vendors being unable to lift the normal consignments in this situation.
Pulses are in demand, with the shift away from poultry products.
However, several pulses' processing units are having similar problems.
In some, workers are not coming or transporters aren't taking goods.
Import in line with government-okayed quotas have arrived at the ports but and are not getting Customs clearance.
Bimal Kothari, vice-chairman, India Pulses and Grains Association, said: "I assume today being the first day of lockdown, these trade issues are much smaller, looking at the gravity of coronavirus. We hope things settle in the next few days."
Flour mills are operating at full strength but, said the head of one of these, one of the largest selling companies in the segment is not able to get the needed supply of packing material.
The problem here is that the authorities are not agreeing that packing material needed for essential commodities should also be treated as one of the latter.
Then, there is edible oil, where three-fourth of the country's need is imported annually.
A falling rupee has made the commodity costlier in recent weeks; demand has also reduced, either because of price issue or disruption in supplies.
Crushing and refining units are also facing the issues of worker availability and tanker transport.
A related issue is the decision to keep ships in quarantine on the high seas for 14 days before arriving at ports.
Whether 14 days will be counted from the day the ship left the supply destination or the arrival date is unclear.
Then, there are clearance delays at ports, said an official of a large importing company.
Onion prices at Lasalgaon, the huge wholesale market near Nashik, is apparently only around Rs 12 a kg.
Supply by road transport from there to consuming centres is another issue.
A sector official hoped that "going ahead, these things should get sorted".
Photograph: Amit Dave/Reuters