IndiGo's size should be compared with global carriers, and not other domestic airlines, chief executive officer Pieter Elbers said on Tuesday, adding that such benchmarking will help India transform its airports into aviation hubs.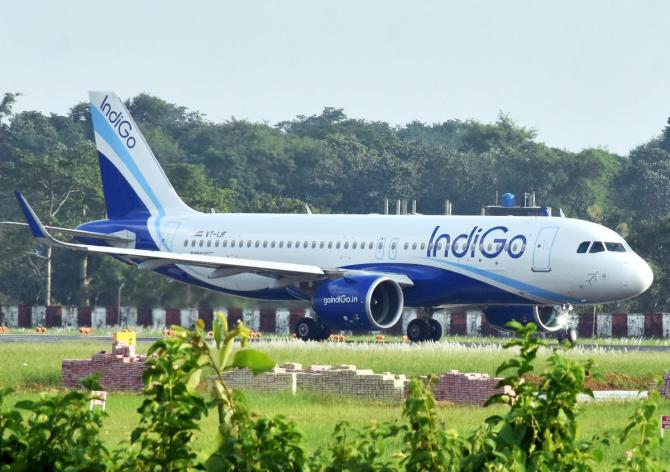 Elbers flagged the tendency to scrutinise domestic competition, assess fares on domestic routes, and determine if they are high.
"But if we want to build some hubs, we should have a broader look," he said during a panel discussion at a convention organised by All India Management Association (AIMA).
The executive, with over 30 years of aviation experience, said India needed to train sights on international competition and realise how the majority of flights between Europe and India were not operated by Indian carriers.
"Rather than having a discussion on how much competition there is between Mumbai and Guwahati, we should focus on how come there are so few direct flights between Delhi and Rome.
"That is the part of the discussion we should be having," he added.
India's international passenger market is dominated by foreign airlines.
About 85 per cent of the domestic market, meanwhile, is divided between IndiGo and the Air India (A-I) group of airlines.
This comes amid SpiceJet's financial troubles, Go First's insolvency proceedings, and Akasa Air reducing flights due to a pilot shortage and has led to concerns regarding high airfares.
The A-I group of airlines includes Air India, Air India Express, AirAsia India, and Vistara.
IndiGo holds 60 per cent of India's skies on its own, however, its share in the international passenger market is about 18 per cent, according to aviation analytics firm Cirium.
When asked if IndiGo has any competition, Elbers replied: "Of course, we have competition. India is one of the most competitive markets in the world."
"When you speak about competition, there is a tendency to look very much at India itself...I think we should sometimes look a little broader and ask: How come on international travel (to and from India), the Indian carriers have a smaller share than the international carriers," he said.
It is crucial for Indian carriers to expand their network, improve positioning, and enhance connectivity systems, he said.
The Indian government has been actively encouraging Indian airports (especially Delhi) to transform into aviation hubs similar to Dubai or Doha airports, which boast extensive flight networks connecting destinations worldwide.
"If we want to compete, and if we have the ambition to become global players, we have to be a certain size," Elbers said.
"Rather than comparing the size of IndiGo or Air India with some other Indian carriers, I think we should also start comparing ourselves to some of the global players.
"If we have to compete with the likes of Singapore Airlines and make sure India is a connecting place, then that should be our point of reference rather than purely looking at domestic competitive points," he added.
About Air India's acquisition by the Tata group, he expressed that this represents a natural progression in a maturing market.
In other parts of the world, as aviation markets mature, consolidation has historically been observed.
"The fact that the markets are consolidating that you go to a certain stage of larger airlines and larger airline groups.
"We have seen that in Europe, the US, China, etc, and we are seeing it now in India," he noted.
Elbers pointed out that when travellers go abroad and purchase tickets in the United States or Europe, they can readily discern the remarkable competitiveness of the Indian market when comparing domestic prices.
"So, yes, there is a lot of competition (within India)," he added.
"Our USP has remained very stable right from the start.
"Three points: affordable fares, on-time performance and hassle-free and courteous service."