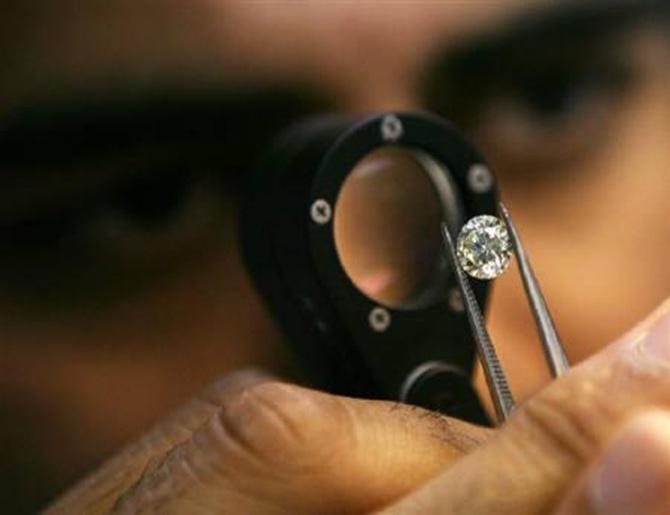 Formal businesses could learn a lesson from the diamantaires of Surat who run their businesses on a 'culture of trust'.
Despite the lack of formal education, cultural governance has helped firms that cut and polish diamonds succeed in the global landscape of the diamond business, according to a recent paper by Indian Institute of Management-Ahmedabad.

The city of Surat is not only the hub of Indian diamond manufacturing; it manufactures 95 per cent of all diamonds processed in the world.

In the IIM-A paper titled 'When Culture Governs Business Practice. . . A Look at Indian Diamond Cutting and Polishing Industry' Indu Rao observes, "The global hub of diamond manufacturing has moved from Antwerp to Surat."

The diamond merchants know their business well, and have managed it impressively.
With the industry touching a size of Rs 90,000 crore (Rs 900 billion), employing two million people.
India's poster-boy industry, information technology, employs about three million people.

Yet, the merchants of Surat now face a challenge.
With the upcoming Surat Diamond Bourse, which is expected to transform Surat from a cutting and polishing centre to an international trading hub, will a change in the way of doing business become a necessity?
The local industry does not think so.
"We run our businesses on mutual trust, which is binding on each member of the trade. We honour our commitments, when it comes to payments, delivery," said Kirti Shah, a local diamond merchant.

Despite little formal education, professionalism exists, verbal commitments are honoured, and a high order of integrity is the rule rather than the exception.
"The people involved take pride in their work. A sense of belonging to the community is a big motivating factor," Rao writes.

Interestingly, community or clan feeling appears to be so strong that the mere thought of being ousted from the group and the diamond business on account of not delivering on verbal commitments, or any dishonesty, become a driver to behave honourably.

While these firms are part of the so-called unorganised sector, they are, in fact, highly organised.
A city-based diamond merchant says, "In place of (formal) strategies and practices, we have developed a culture of working of our own, which involves a code of conduct and ethics."

These firms have global reach.
They acquire diamonds from global sources and supply finished diamonds to the global diamond industry.
They have survived as a close-knit community even as they scale up and respond to global demand.
The IIM-A paper notes: "As the volume of their business increases, they pass on business to other smaller firms within the same community."

However, the industry has been plagued by defaults of Rs 3,000 crore in the past six months.
According to Dinesh Navadia, president of the Surat Diamond Association, the decades-old chitthi (paper note) system basically worked on mutual trust.

Diamond traders noted down the specifics related to a diamond, its weight, value etc together with the date it will be delivered and how money would be paid on a piece of paper.
Recent defaults have made a section of traders contemplate moving towards promissory notes.

This is called jhangad (trades on consignment basis).
This would mean the details of the diamond; the colour, cut, clarity as well as the payment details would be printed on a piece of paper carrying a revenue stamp. Navadia said most firms in Surat might shift to the new way of doing trade.

Further, the fact that Surat is gearing up to house a world-class diamond bourse that will not only offer a trading facility but bring all those interested in the business of this precious commodity under one roof also necessitates more clarity in the way of doing business.
"The old ways of doing business would not be discarded at once. It is difficult for people to operate in this industry for a long time if they resort to breach of trust.
Yes, recently there have been some cases of fly-by-night operators, but the industry would definitely recover the money in one way or the other," said a merchant.

RETAINING THE SHINE
According to a recent IIM-Ahmedabad working paper, cultural governance has helped the industry firms that cut and polish diamonds succeed in the global landscape of the diamond business
Surat manufactures 95 per cent of all diamonds processed in the world
It is almost a Rs 90,000 crore industry and employs over 2 million people
The informal sector firms acquire diamonds from global sources and supply finished diamonds to the global diamond industry
However, the industry has been plagued by defaults of Rs 3,000 crore (Rs 30 billion) in the past six months
Image: A diamond businessmen demonstrates a process at a diamond cutting and polishing factory in Surat. Photograph: Arko Datta/Reuters