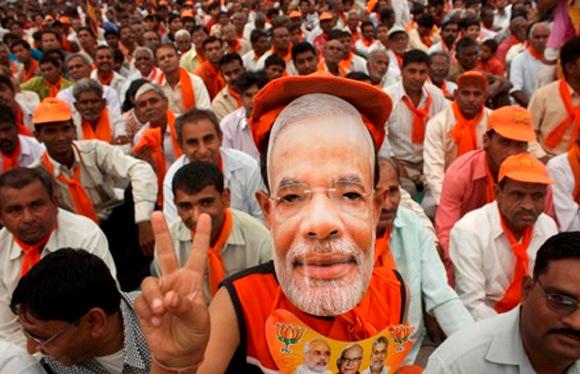 While Manmohan Singh had to deal with high oil prices, inflation and trade deficit, Narendra Modi is lucky as major threats have receded, says T N Ninan.
Two storm clouds hovered over the Indian economy soon after Narendra Modi took charge as prime minister in late May.
One was the prospect of a failed monsoon, and the other was high and rising oil prices. Both threats have receded, reminding many of Napoleon's question: not whether a particular general was competent or not, but whether he was lucky.

Manmohan Singh during his decade in office had to deal with a quadrupling of oil prices, and their impact on inflation and the trade deficit, not to mention the fiscal situation because of the oil subsidy.

In contrast with that, is Mr Modi proving to be a lucky prime minister? Oil prices have fallen from a high of $115 per barrel in June to below $100 now, so much so that the government is in the unprecedented position of considering a cut in diesel prices.

And the showers of recent weeks have reduced the monsoon deficit substantially; the result is that we may not have to worry much about either agricultural output or water availability.
But the world is not an easy place these days, and fresh worries have surfaced. The major economic zones, barring the United States, seem to be in a spot of bother. Japan has turned in its worst economic performance in three years. The euro zone may be slipping into recession, too, with all the major economies in the currency zone affected.

Germany has been hit by the tit-for-tat sanctions imposed by Russia and by France's stagnation, while Italy's economy (the third largest in the region) is shrinking.

The European Central Bank has now launched what looks like a mini-war with the US currency, dropping interest rates to below zero in an effort to force down the euro against the dollar (all those who think the rupee should be purely market-determined, please note).

As for Japan, its economy has turned in its worst performance in three years, with price deflation a big factor.
China would seem to be doing well, but it has so far failed to make the transition from investment-driven to consumption-driven growth - the investment rate remains at around 47 per cent of gross domestic product (more than 12 percentage points higher than India). Nor, judging by its record trade surplus, has China begun to depend less on exports for economic momentum, and to encourage consumption at home (imports have been falling).

The 7.4 per cent growth reported most recently is in line with targets but, without the twin transitions, is it sustainable? Meanwhile, renewed military action and political uncertainty in West Asia have added to ever-present uncertainty in the oil market.
Stagnant or shrinking economies, central-bank adventurism and uncertain commodity markets can impact India in any of several ways: stalled exports, reduced investment flows, currency volatility and skewed interest rates.

So it becomes imperative, as Raghuram Rajan said some time ago, to bullet-proof the economy against external shocks. One of Dr Rajan's predecessors as Reserve Bank of India (RBI) governor, Y Venugopal Reddy, had argued earlier that India should strive to wipe out its current-account deficit altogether - a position that many considered extreme conservatism.

Alternatively, the RBI should be shoring up dollar reserves further, taking them up in stages from $320 billion to $400 billion and more.
Shock-proofing the system also means reducing the fiscal deficit. If the government stays on course for the current year (helped by a sharply reduced oil subsidy bill), and can then shoot for the target of a three per cent deficit two years from now, India's macroeconomic position will finally be back to the comfortable position of 2008.

For those who worry about the growth objective not getting more attention, as compared to the desire for macroeconomic stability, the response must be that clear and steady progress towards such stability will provide the best underpinning for rapid growth and investment.