Farming and agriculture are crying out for a business model innovation, says R Gopalakrishnan.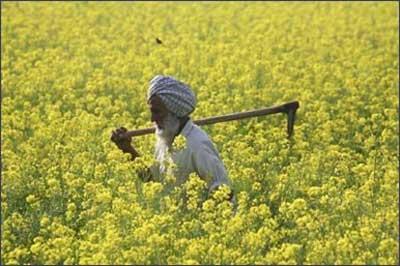 Election fever and Diwali are behind us, so it is time to discuss mundane things again.

The humble pulses have become a pulsating national issue. Over the years several commentators, including this writer, have anticipated the impending crisis; however, as with other crises, each recurrence delivers its own message.
The urban excitement about start-ups, entrepreneurship and innovation is missing in farming. Try compiling a repertoire of bottom-of-the-pyramid innovation articles on farming.

Agri-business correspondents write reasoned columns. However, policy-makers seem interested in lofty programmes, with little reference to the farming sector.

Logically, Digital India should connect progressive farmers through smartphones; agriculture should be a Make in India candidate because it delivers 15 per cent of India's exports, valued at $ 40 billion; it should be a National Skills Development Mission candidate because it employs 260 million people - over half of India's workforce.

Experts suggest that India's agricultural exports can be doubled to $80 billion and that the increased output can be produced by fewer, better-trained farm workers.
In a recent article, Narendra Pratap Singh, director of the Indian Institute of Pulses Research, Kanpur, said: "It is not lack of research as much as policy support that is currently missing in pulses."

The message from the senior scientist seems to be, 'The pulses problem is not because of us scientists; the problem is with regard to policy and interdepartmental coordination'.

Truth be told, apart from technology, the business model (way of doing things) can be a huge source of innovation. Farming and agriculture are crying out for a business model innovation.
So what is the farming problem? Is India short of good farmers, funds, schemes or experts? None of them. In fact, it has too much of these valuable resources, but they work in an uncoordinated and unfocused manner.
As pointed out in a recent book (The Silo Effect by Gillian Tett, Little Brown, 2015), "Silos are cultural phenomena… They arise because social groups have particular conventions about how to classify the world… People tend to assume that their way of behaving is natural and the way other people behave is not… Occasionally we can imagine a different way of organising our world".
Farming and agriculture need an alternative national framework. If you search for an explicit National Agricultural Policy, similar to India's Industrial Policy Resolution of the 1950s, you will encounter a strange phenomenon: the present National Democratic Alliance government may mention a 2005 United Progressive Alliance draft, which anyway needs updating.
Sixty items such as law and order and police and agriculture are pure state subjects under the Indian Constitution; if so, what is the Union agriculture minister accountable for?
The country needs an agriculture czar, who will do different things, differently - in other words, intelligent and innovative agriculture.
Implementation of a collaborative programme with the states can replicate the dramatic results achieved by three earlier agricultural revolutions - food grains, milk and poultry.
It is an innovation priority that the nation cannot keep waiting for. What should be done?
Y S P Thorat, former chairman and managing director of National Bank for Agriculture and Rural Development, and I have co-authored a paper titled, 'Sarthak Krishi Yojana', which is accessible (http://www.rallis.co.in/sarthakkrishiyojana.html).
It suggests a coherent framework to transform agriculture and is inspired by the national industrialisation experiences through five pillars - technology, risk, institutionalisation, policy and skills.
Some of its ideas: adopt a formal technology policy with regard to soil health, crop protection chemicals, crop nutrients and seeds; actively promote.
Section 8 companies in which farmers can be shareholders - sort of the small and medium-sized enterprises equivalent for farmers; set up agricultural technical training institute, a bit like the industrial training institute, to promote advanced farm skills; as part of Digital India, connect 10 million progressive farmers to access knowledge, experiences, markets and technology.
The writer is director, Tata Sons.