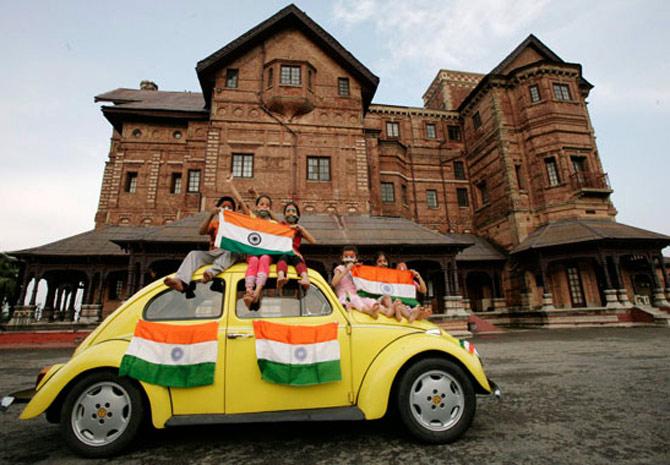 Though growth in China is unlikely to slow down soon, India should prepare to take advantage of a shifting of gears there, says Nitin Pai.
A working paper by Lant Pritchett and Lawrence Summers, famous Harvard professors, has captured the attention of watchers of the global economy in the past few days.
Its conclusion itself is straightforward and a validation of the commonsensical notion that countries can't grow fast forever and will ultimately slow down to normal.

China (and India), they argue, cannot sustain high economic growth rates and will at some point slow down to two per cent or so. Obviously, this will have immense consequences for the global economy and for the distribution of geopolitical power.
What makes Professors Pritchett and Summers' analysis interesting - and debatable - is their contention that China's slowdown is imminent.
Beyond "salient characteristics of China - high levels of state control and corruption along with high measures of authoritarian rule" they do not pinpoint why the Chinese economy should go into a steep decline now, rather than in the next decade, several decades later or indeed the next century.
The question of "when" the great Chinese growth engine will shift down to low gear is more important than the knowledge that it will someday.
It is ironic that Professors Pritchett and Summers use the principle "past performance is no guarantee of future performance" to warn against extrapolating China's recent growth into the future, while using historical data to argue that because other economies regressed to the mean in the past, China will do so in the future.
The truth is we just cannot say when diminishing returns will set in China's gigantic economy, even if we can say that one day they perhaps will. The prediction business is over-rated in general, the macro- and geo-economic prediction business even more so.
There's more. The Conference Board, a research institution that serves corporations, released a new report last week arguing that China's economy will grow only at 5.5 per cent over the next five years and further drop to 3.9 per cent over the next five.
This is up to a couple of percentage points below World Bank and International Monetary Fund estimates. Reuters reported that its poll of analysts showed that short-term growth forecasts ranged between 6.5 and eight per cent, with a median at 7.1 per cent.
That's slower than the 7.3 per cent year-on-year growth China registered in the third quarter, which itself was below the 7.5 per cent target that the Chinese government had set.
It is also true that the Chinese economy suffers from excessive debt, real estate dependency, slackening productivity, cronyism and other malaise. In the long term, it will face the demographic challenge of an ageing population.
Yet it is hard to arrive at the conclusion that the Chinese economy will crash, or slow down to levels that the Harvard and the Conference Board studies predict.
For the Chinese Communist Party, ensuring the continued prosperity of the Chinese people is the sole ticket to political legitimacy and holding on to power.
We can be reliably certain that it will treat matters of its survival and perpetuation very seriously. And it has. In November last year, its Third Plenum approved a plan that in its own words had a road map for "comprehensive and far-reaching reforms".
How comprehensive and how far-reaching its reforms will be remains to be seen, but Xi Jinping's administration is engaged in the most transformational of policy agendas since Deng Xiaoping's.
A controlled slowdown is part of that plan. China analysts report that part of the reason why President Xi is consolidating political power - he's being acknowledged as the strongest leader since Deng - is to prevail over the entrenched interests that are bound to oppose the reform plan.
Whether Mr Xi will win this round or not we cannot say, but his government certainly has the resources required to do so.
Even the debt problem might not lead to a crisis, for, as The Economist argues this week, "China, unlike most other countries, controls its banks and has the means to bail them out."
In the meantime, China's shifting of gears, coming as it does with the possibility of a recession in Europe, will have consequences for Indian trade and foreign policies.
To the extent that it reduces the global demand for natural resources - including energy - the Indian government gets a window to get their pricing framework right and rationalise the subsidy regime without a popular backlash.
The Modi government's decision to free diesel prices from government control is a good example of what New Delhi should do to take advantage of such opportunities.
It gets harder and is different with other natural resources, but it makes sense for New Delhi to not let go of this opportunity.
Countries that depend on exports to China are likely to be more receptive to India in the coming years, as they seek to diversify their trade and find their external policies a little less vulnerable to Beijing's interests.
New Delhi must prepare to reach out to countries ranging from Saudi Arabia to Australia to build new long-term business and strategic relationships.
It's also a good time to position India as an alternative location for manufacturing.
Like with "Make in India" and the incipient labour reforms, policymakers must do what is right. Economic astrology shouldn't interfere with good policymaking.
The writer is co-founder and director of the Takshashila Institution, an independent public policy think tank.