Regulators will need to allow the model to evolve to allow profits to flow, says Una Gulani.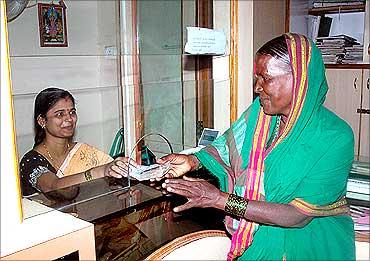 India's new banking wannabes face a long road to profitability.
Conglomerates, telecom operators and a fast-growing local startup backed by China's Alibaba are getting ready to launch small deposit-taking institutions.

It is part of a wider shakeup of India's state-dominated banking system.

Yet tight regulation and fierce competition mean returns will be elusive.
The so-called "payment banks" are part of Prime Minister Narendra Modi's push to broaden access to finance in a country where almost half the adult population still does not have an active bank account.

Last year, the Reserve Bank of India granted preliminary approval to 11 applicants including Reliance Industries, the oil-to-retail conglomerate backed by India's richest man Mukesh Ambani, and companies linked to telecom operators Bharti Airtel, Ideal Cellular, and Vodafone.
The idea is that these new institutions will make it easier for poorer Indians to pay bills, transfer money to their relatives, buy insurance and even save for their retirement.

Payment banks can accept deposits worth up to Rs 100,000 ($ 1,501) per customer and issue debit cards. However, they are not allowed to lend.

Instead, they must invest 75 percent of deposits in short-term government bonds and provide a physical network of access points, one quarter of which must be in rural areas.
This low risk profile will limit initial returns. Indian government bonds now yield barely 7 percent.

If new entrants match the 5.5 percent deposit rate offered by big state lenders, their net interest margin would be less than 1.5 percent.

That's less than half the margin made by India's largest private sector bank ICICI in the fiscal year to the end of March.
Though transaction fees will bring in extra revenue, new operators are also likely to offer sweeteners to expand their market share.

Telecom operators, for example, see payment banks as a means to reduce the huge turnover in their customer base. India's mobile market is dominated by pay-as-you-go users who rapidly switch between operators to take advantage of the best prices.

Linking bank accounts to phone use may make customers more loyal.

It may also explain why Ambani's Reliance Industries, which is due to launch a fourth national operator later this year, is amongst the applicants.
Paytm, meanwhile, appears to have a completely different rationale.

The company is already catering to the on-the-go payment needs of India's middle classes through its mobile wallet and e-commerce platform.

Setting up a payments bank should allow it to broaden its reach.
Yet Paytm lacks the brand recognition among poorer, especially rural, customers for whom mobile phones are now a utility.

Unlike telecom operators, which already have distribution points across the country for top-up payments, the internet company will also need to build a physical network or join forces with a stronger partner.

Though its backers Alibaba and Ant Financial - which just raised funds at a $ 60 billion valuation - dominate the Chinese market, it is unclear if they can help Paytm conquer India.
Ultimately, the payment banks' financial prospects are only likely to improve if regulators relax.

The current guidelines require license-holders to separate their payments activities from other non-financial businesses, though there is little clarity on what this means in practice.
Mobile groups will probably be allowed to lure customers to affiliated payments banks by throwing in free mobile talk time or store vouchers.

However, payments banks may find it harder to share sensitive data on users with telecom operators, online retailers or full-service banks in search of new customers.
India has intentionally made its payment banks low-risk institutions.

Regulators will need to allow the model to evolve to allow profits to flow.

Otherwise deep pockets will be the only factor that decides who survives in the battle to dominate India's payments.
(The author is a Reuters Breakingviews columnist. The opinions expressed are her own.)