Google is learning the ABCs of conglomerate life, notes Jeffrey Goldfarb.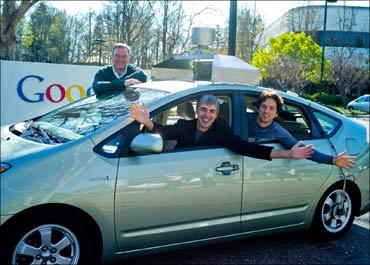 Image: (L to R) Eric Schmidt, Larry Page and Sergey Brin in a self-driving car.
The $444 billion web-search goliath is separating its driverless cars, balloon-powered internet, biotech ventures and the like from its main ad businesses under a new Berkshire Hathaway-like structure called Alphabet.

The move suggests Google recognizes how its sprawl has spelled trouble.
Outside perceptions began to change four years ago. That's when Google expanded from smartphone software into hardware with its $12.5 billion acquisition of Motorola Mobility, its largest-ever acquisition.

The deal attracted the attention of U.S. and European trust busters, who worried about how a more dominant Google might use the thousands of patents it bought.

Wall Street began trotting out sum-of-the-parts analyses, as sure a sign as any of the harms of diversification.
Google later sold the handset-manufacturing arm to Lenovo, but it also has spread itself vastly into myriad new areas since then.

It is producing Nest thermostats, hunting for ways to prolong human life at Calico, testing drone delivery in its X lab and investing in many new developments by way of its Venture and Capital arms.

In the process, Google co-founders Sergey Brin and Larry Page have created a less value-seeking but more technology-powered version of Warren Buffett's variegated enterprise.
Worries about just how much all this mad science might be costing have grown, especially with Facebook's increasing strength as an online advertising competitor.

The social network fetches a valuation of 34 times next year's earnings, according to Thomson Reuters data, compared to Google's multiple of 19 times.
The creation of Alphabet - so whimsically named in part to signify Google's bet on alpha, or investment returns above a benchmark - should help.

Though it's hard to discern the need for the complex machinations of a holding company and the accompanying one-for-one exchange of Google shares into Alphabet ones, breaking out financial information for the various adventuresome pieces will help investors see at least a bit more clearly how they stack up against the primary operations in search, maps, YouTube, Chrome and Android.
It probably won't be enough to justify housing the whole hodgepodge under one Silicon Valley roof, but may help erase some of Google's conglomerate discount.
The author is a Reuters Breakingviews columnist. The opinions expressed are his own.