Let it gradually pull itself out of international routes and focus on linking remote towns and cities, suggests Anjuli Bhargava.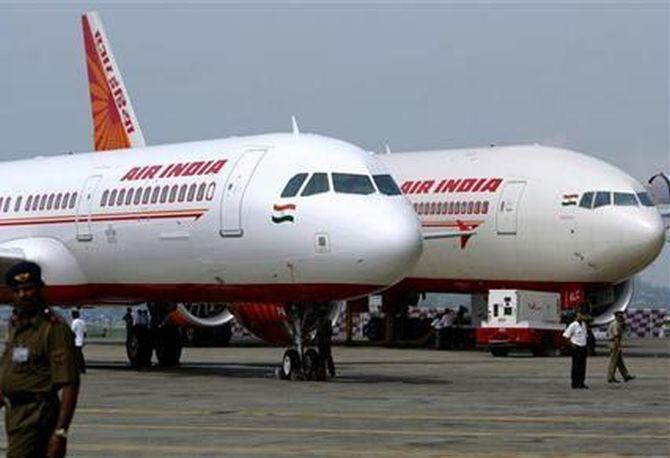 Image: Build a network akin to that of the Indian Railways or even the National Highways Authority of India. Photograph: Reuters
Let's begin the New Year with a new resolution: Find a collective solution to the Air India problem.

The government - the United Progressive Alliance II and now the National Democratic Alliance - will have collectively spent Rs 30,000 crore (Rs 300 billion) over a five-year period on keeping the airline up and running.
While some of that amount was justified - the airline had a woefully inadequate capital base - do we, as a country, want to shell out another Rs 30,000 crore over the next few years?

Despite the fact that the majority of the aviation ministry's yearly budget - Rs 6,000 crore (Rs 60 billion) approximately - goes towards keeping Air India going, no solutions in the draft policy have been offered on how to stem the flow of public funds and get the airline to become financially viable.
Let's accept the hard facts. Privatising Air India is not an option this government - or any other government - is willing to consider. Shutting it down, putting at stake the jobs of 30,000 employees, is even less of an option.
So, if you can't fix it, shrink it. Or rather, let's alter the scope of what it does. Let Air India be converted into a strong regional carrier for the country.

Let it gradually pull itself out of international routes and focus on linking remote towns and cities - a social objective the government is keen to meet.

Build a network akin to that of the Indian Railways or even the National Highways Authority of India.

Let it carry out emergency operations such as earthquake relief (like the one in Nepal), rescuing Indians from sticky situations and meet other social objectives like Haj pilgrimages.
With this one act, we can kill many birds with a single stone.
Cut losses steeply: Three out of 120-odd international routes (all short hauls) flown by Air India make money, as Mahesh Sharma, minister of state (independent charge) for aviation told Parliament in 2014.

Almost all the long-haul flights are bleeding. On domestic routes too, very few routes actually earn a profit.
Free the private players: The private sector need no longer be asked to fulfil the remote connectivity guidelines and operate to places that are not viable.

Why should a Vistara with a business and premium economy configuration be forced to fly to Kohima? On a route where it has no hope of filling its business-class seats?

In today's day and age, it's hard for airlines to fill business-class seats even on the Delhi-Mumbai route.

It's unreasonable to impose these guidelines on private airlines and begin with a red mark on their books.
End privileges: Free tickets for staff and employees to foreign destinations, upgrades and a host of smaller privileges that the staff and bureaucrats have invented over the years will disappear overnight.

These privileges will automatically be less attractive and therefore, less worth the trouble. Who needs upgrades for short, domestic hops? No miniature foreign liquor bottles to pilfer.
Make money from airplanes: The airline can lease out its wide-bodied aircraft and earn some money from them for a change.

Free up slots abroad and save some money. Vacate real estate at prime airports - Heathrow, Narita and others - around the world and save some money.
At a macro level, there are at least three obvious positives. By freeing up bilateral rights, Air India's withdrawal can make way for some of the private sector players to step in and perhaps build a strong private international carrier out of India - something Air India has failed to do for 50 years now.

Two, domestic connectivity can be enhanced, bringing with it all kinds of multiplier benefits to the economy. And finally, we can justify the amount spent to keep it up and running.

The government can ask a taxpayer to finance a flight to some remote corner of the country and he may do it out of the goodness of his heart.

But why would he cross-subsidise a flight from Delhi to San Francisco? This way - and this way alone - can one justify the Rs 6,000 crore that we, the taxpayers, spend on it every year.
The main stumbling block I see to this is that we, Indians - more than one minister in the past has told me that Air India is a matter of national pride - may have to swallow our pride. Let our national carrier be reduced to a regional one.
But we must wake up to the fact that Air India's instance is not unique. The world over, governments have accepted that it is not their job to fly planes.

Look across the globe and national carriers have been privatised, shrunk or shut down. We can follow suit.