However, both developers as well as analysts are hopeful that these business metrics will pick up once activity resumes.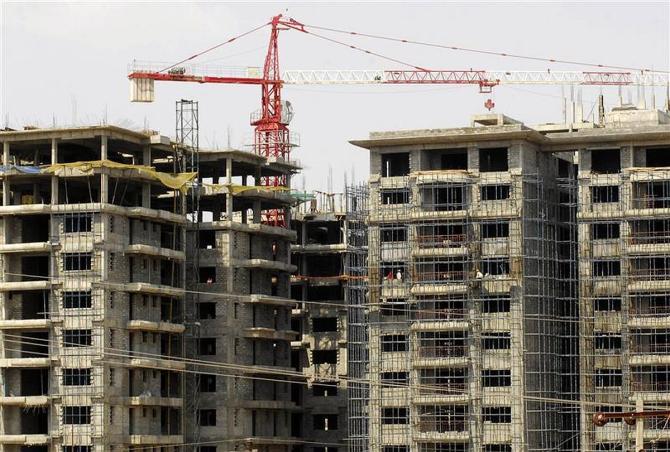 Collections from customers, cash flows, and sales realisation went south for DLF, Godrej Properties, and Oberoi Realty - the top three developers - in the June quarter (Q1FY21), with construction activity coming to a halt in April and May.
However, both developers as well as analysts are hopeful that these business metrics will pick up once activity resumes.
They have acknowledged, though, that the current financial year will be tough, with prospective buyers staying away.
Collections from sales for DLF, the country's top realtor, halved to Rs 315 crore in Q1FY21, compared to Rs 705 crore in Q4FY20.
Operating cash flow before tax and interest also plunged 70 per cent during the period. Analysts said a quarterly comparison made more sense because Q1 was hit by Covid.
"Construction work stopped during the lockdown. It has now recommenced at all sites, achieving 65 per cent of pre-Covid levels," DLF said on Wednesday.
It added that business was hit by challenging circumstances, while revenue recognition was deferred to subsequent quarters.
For Godrej Properties (GPL) - the second-biggest realtor - collections came in at Rs 420 crore in Q1, which was 40 per cent of the pre-Covid level.
This led to net debt rising Rs 590 crore (sequentially) to Rs 1,750 crore.
Average sales realisations were also down to Rs 6,094 per sq. ft, against Rs 6,648 in Q1FY20, but higher than the Rs 5,811 in Q4FY20.
"Collections are normally construction-linked, but there is no point in focusing on that because there was no construction in April and May. Now, labour is at 60 per cent of pre-Covid levels," said Pirojsha Godrej, chairman of Godrej Properties.
Godrej added that debt also surged for similar reasons.
"Construction was hit. Hence, cash flows were lower than last year. They should be close to the break-even point once construction improves," he said.
He said the firm did not reduce prices during the quarter, and numbers are not strictly comparable as prices differ from city to city.
Adhidev Chattopadhyay, research analyst at ICICI Securities, said that though GPL's FY21 operating cash flows may remain weak, the realtor remains comfortably placed with reserves of Rs 2,200 crore as of June.
Chattopadhyay added that GPL achieved strong gross bookings worth Rs 15.3 billion (up 71 per cent YoY), driven by digital channels - of which 50 per cent was from non-resident Indians.
Close to 80 per cent of bookings in the quarter were driven by GPL's activation scheme across 30 projects, in which a customer pays 10 per cent on booking and 90 per cent on possession, with no bank tie-up.
Oberoi Realty, which ranks third, also found itself in rough terrain during the quarter.
New bookings stood at a paltry Rs 20 crore, against the usual quarterly run rate of Rs 200-300 crore.
"We expect FY21 to be a tough year for Oberoi Realty, considering its exposure to the Mumbai luxury residential market and continued weakness in the malls/hotel businesses," said Chattopadhyay of ICICI Securities.
Photograph: Reuters