The stock of the country's largest listed oral care company -- Colgate-Palmolive (India) Ltd is up 18 per cent over the past month.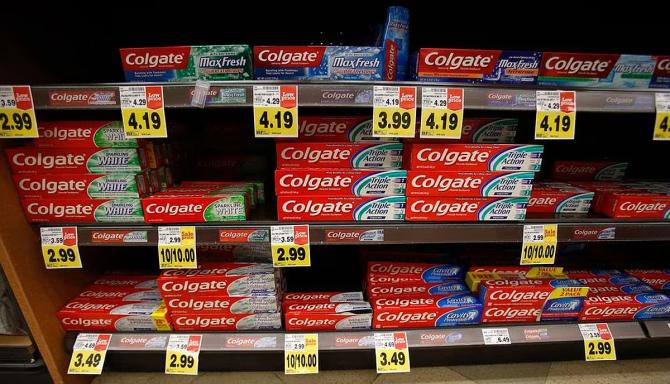 The gains were led by better than expected June quarter (Q1) performance of the 2023-24 financial year (FY24) and growth revival expectations of the oral care category.
The company's volume growth is pegged at 5-8 per cent in Q1FY24.
This is the second consecutive quarter of volume growth.
Prior to Q4FY23, volumes had declined for four quarters, highlights HDFC Securities.
The four-year annual growth for the metric was at 2 per cent.
Riding on the volume gains, domestic sales growth came in at 12 per cent.
Within the segments, even as toothbrush sales fell year-on-year (YoY), the toothpaste segment was the overall growth driver with a gain of 16 per cent on a soft base.
The management highlighted that they are witnessing early signs of recovery in rural markets and remains optimistic about continued improvement.
In addition to rural recovery, analysts -- led by Jaykumar Doshi of Kotak Securities -- cite the plateauing of Naturals sub-segment and re-launch of Colgate Strong Teeth dental cream as reasons for the better showing.
Colgate Strong Teeth accounts for a third of the toothpaste sales.
The company's digital interventions and data-led decision making on product assortments, pricing and promotions also helped to boost sales.
Profitability too saw an uptick in the quarter. Gross margins improved 210 basis points (bps) YoY to 68.4 per cent on the back of lower raw material costs, sourcing efficiencies and calibrated pricing.
Furthermore, a decrease in staff costs and other expenses led to 440-bp-expansion in operating profit margins to 31.6 per cent.
After lower advertising spends in Q4FY23 at 10.6 per cent of sales, the company increased spends to 13.7 per cent of sales which was on expected lines.
While the company has indicated that it would prioritise growth over margins, brokerages expect improvement in profitability, aided by easing raw material costs.
Given the improving trends and recovery in oral care, analysts -- led by Abneesh Roy of Nuvama Research -- recently upgraded the stock from 'hold' to 'buy'.
In FY25, it expects Colgate to see higher volume growth, premiumisation, and deflation in raw material cost.
The brokerage raised the FY25 earnings per share estimates by 6-9 per cent and the valuation multiple from 35 to 40 times.
Motilal Oswal Research, however, is not as optimistic.
Given the likelihood of continued weak topline (muted volumes in the past on oral care penetration, herbal competition) and earnings growth in the future, it is improbable that the stock will experience a rerating, says the brokerage which has a 'neutral' rating.
For Kotak Research, rerating is conditional on share gain/premiumisation-led higher growth and/or progress in the personal care portfolio (Palmolive) as oral care remains a 6-8 per cent value growth category.