Analysts expect Colgate's overall volume growth to remain in single digits (around 5-6 per cent) for the next two years.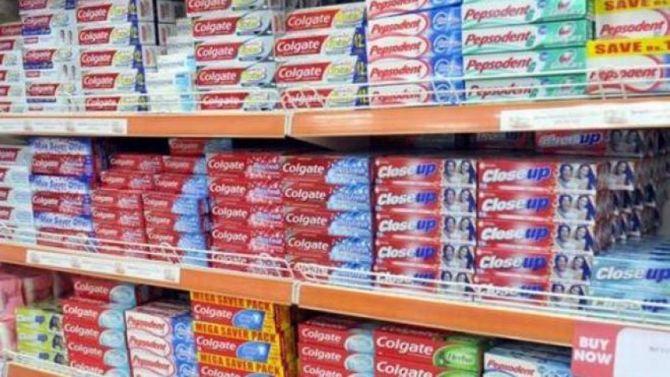 The competitive intensity denting market share of toothpaste major – Colgate Palmolive India – continues to hurt investor sentiment.
With a 9 per cent fall in the last three months, shares of Colgate have underperformed the S&P BSE FMCG index, which has fallen by 2 per cent during the said period.
However, things are still not supportive for the stock. In fact, the impact of competitive intensity could be felt more by Colgate given that consumption demand is moderating.
According to Centrum Institutional Research, Colgate's management believes that the Patanjali effect has not waned, and competitive intensity is unlikely to have slowed down, thereby suggesting that the pain is not over yet.
Thus, the brokerage expects a gradual volume-led market share recovery for Colgate, driven by higher advertising and promotional spends.
From 55.9 per cent as of June 2016, after Baba Ramdev's Patanjali entered the market, Colgate has lost 340 basis point market share in toothpaste segment to 52.5 per cent as of September 2018 quarter and since then it has remained almost flat.
Moreover, Colgate is also facing competitive pressure in toothbrush category, mainly from 'Oral-B.'
Although new products including battery operated toothbrush are a positive, the overall picture for the category isn't favourable.
Some support, however could come from its other products like Palmolive facial bar.
The company recently launched its Palmolive facial bar in few states and on e-commerce channels and now it is being taken national and in bigger packs.
Against this backdrop, analysts expect Colgate's overall volume growth to remain in single digits (around 5-6 per cent) for the next two years.
Colgate had clocked around 5 per cent volume growth in FY19.
Further, they estimate high advertising spends and rising input cost to weigh on margins and overall earnings.
Some analysts foresee around 100 basis contraction in EBITDA (earnings before interest, tax, depreciation and amortisation) margin of Colgate in FY20 to around 27 per cent.
For FY20 and FY21, post March 2019 quarter results, they had cut their earnings estimates for Colgate by around 4 per cent each.
Overall, despite a correction in valuation–stock currently trades at 8 per cent discount to its 5-year historical valuation average, investors are recommended to wait till there are signs of market share recovery.
Photograph: PTI Photo