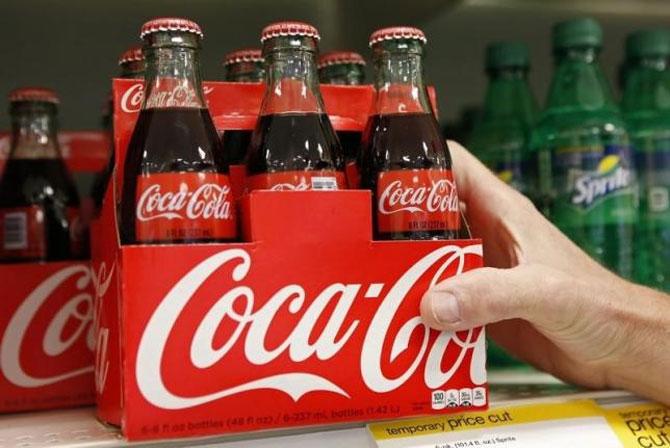 Indian beverage start-ups mushroom as soda sales slow down and consumers stay away from carbonated drinks
A spate of new home-grown brands are carving a neat niche in the Rs 65,000-crore (Rs 650-billion) beverage market in India, setting off the alarm bells among many of the large cola makers in the country.
Backed by institutional investors, most of these start-ups like Paper Boat Beverages, RAW Pressery and Milk Mantra have come out with innovative products, interestingly packaged and inventively marketed to woo the urban health-conscious consumer.
Anuj Rakyan, founder and managing director, Rakyan Beverages which owns the cold-pressed juice brand RAW Pressery believes Indians are drinking less soda.
"The carbonated soft drink industry has shown a 5 per cent decline in growth globally.
Giants like Pepsi and Coke are fast losing shelf-space to healthier, functional options as discerning consumers are opting for not-from-concentrate products with no added sugar."
Raw Pressery products come at a huge premium however; a 250 ml bottle of its juice retails for around Rs 150 while a 300 ml can of Coca Cola costs around Rs 30.
"The 100 per cent natural category has grown by over 40 per cent in the past three years and online and offline retailers are seeing a surge in footfall by stocking clean-label innovations," Rakyan claims.
In fact, the carbonated beverages category was among the top five categories to show a significant production decline in the Index of Industrial Production in April and May 2015.
And last summer, according to a report published in this paper, the category saw a 3.16 per cent drop in IIP during May.
Also according to research firm, Euromonitor, the soft drinks category grew 19 per cent last calendar year helped by the juice segment that crossed Rs 10,000 crore (Rs 100 billion) in sales and is now almost the same size as carbonated beverages.
Neeraj Kakkar, chief executive officer and co-founder of Hector Beverages which owns the Paper Boat brand agrees that there has been a shift in consumer preferences towards healthier drinks (without too much added sugar, preservatives or carbonates).
Kakkar's Paper Boat, which was founded in 2009-10 and has so far raised around Rs 250 crore in several rounds of funding from Sequoia Capital, Sofina and Hillhouse Capital and Infosys co-founder N R Narayana Murthy's Catamaran Ventures, is planning to do something unique starting this summer.
Kakkar says, "We are launching Panakam (jaggery-based drink) for the Southern market that will coincide with the Ram Navami festival.
This would be on the shelves for just about a fortnight." After that he plans to launch limited edition Kacchi Lassi (around Baisakhi) and Rose Sherbet (around Ramzan).
The idea is to have 10-12 traditional Indian drinks for the major festivals around the year.
While he does not get into whether it is a supply chain nightmare, Kakkar is confident about pulling it off.
Hector Beverages had doubled capacity during 2015, and has again doubled it this year, taking the current capacity to 460 bottles per minute.
Just like Kakkar who spotted an opportunity in traditional Indian beverages that cater to the Indian palate, former Tata executive Srikumar Misra, saw an opportunity in India's fascination with milk.
Misra, the founder, managing director, of Odisha-based Milk Mantra whose products include milk, buttermilk, curd and milkshakes under the Milky Moo brand, is backed by Fidelity Growth Partners.
Misra feels that the flavoured milk or milkshake market is still nascent in India, about Rs 1,500-1,600 crore (Rs 15-16 billion) at the moment.
It is still a very small portion of the overall dairy industry in the country which is estimated to be around $50 billion (out of which only $10 billion is organised), says Misra.
However, it has the potential to grow into a one billion category over the next five to seven years, at the current growth rate of 25-30 per cent.
In fact, cola major Coca Cola has recently launched its flavoured milk brand Vio in India.
Milk Mantra milkshakes (MooShake) use the active ingredient in turmeric, curcumin, which is anti-inflammatory, an immunity booster and also believed to be a natural preventive for cancer.
The company has two plants with a combined capacity of processing 3 lakh litres a day of fresh milk which is for its Milky Moo fresh dairy product portfolio.
For MooShake the initial capacity is five lakh litres per month, which will be increased as the company enters newer markets.
The company says that it will double the Rs 120 crore (Rs 1.2 billion) turnover in FY16 to Rs 230 crore (Rs 2.3 billion) in FY17.
There is room for growth outside dairy as well. Rakyan says that the non-carbonated, non-dairy and non-alcoholic segment has been clocking a 50-55 per cent compounded growth over the last three years.
Rakyan Beverages plans to be in top 12 Indian cities by FY17, and has hired the national sales head for modern trade of a cola giant to ramp up its operations.
From a turnover of Rs 7.5 crore (Rs 75 million) in FY16, it is targeting Rs 30-35 crore (Rs 300-350 million) in FY17.
These projections are sure to attract many more brands and investors, but many will wait to see if the long summer ahead delivers the numbers that the companies are expecting it to.
MESSAGE IN A BOTTLE
The juice market in India is now close Rs 10,000 crore (Rs 100 billion), nearly the same as the carbonated drinks segment
Home-grown beverage makers are using innovative ways to stimulate demand, launching limited edition drinks around Indian festivals
Many are tapping into traditional recipes for their products, using medicinal herbs to flavour their beverages
The image is used for representational purpose only. Photograph: Reuters