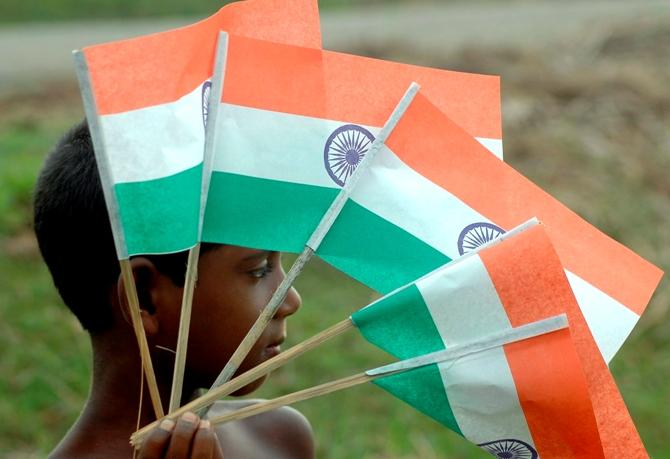 Indian economy grew 7.9 per cent in the March quarter.
Indian gross domestic product is expected to expand at 7.7 per cent this financial year despite the fact that the pace of activity indicators slackened in April-June, says a Citigroup report.
According to the global financial services major, the pace of growth of activity indicators like commercial vehicle sales, credit to the infrastructure sector, power demand and air cargo, among others, slackened in April-May, taking growth rates back to the average 2015-16 levels.
"Although growth rate of activity indicators dipped in April-June of this fiscal, we remain hopeful that the full year GDP growth could be 7.7 per cent," Citigroup said in a research note.
The report further noted that it is comfortable holding on to its 7.7 per cent 2016-17 GDP growth forecast for now because of rural economy boost from a better monsoon and 7th Pay Commission impact on public sector salaries.
According to the estimate, rural consumption can go up by around $80 billion in 2016-17 if normal rainfall continues for the rest of the monsoon season while the 7th Pay Commission is expected to add $10-12 billion to urban consumption.
"Real urban consumption growth could be at a much higher rate of 10 per cent in 2016-17 because of the expanding urbanisation process," Citigroup said, adding that the urban consumption pie can go up by around $90 billion.
"However, we estimate that the incremental impact of the 7th Pay Commission is only about $10-12 billion, lower than the impact of a good monsoon."
This forecast assumes that the net cash inflow to the economy from the Pay Commission would be $10-12 billion after adjusting for consumption multiplier, it said.
"Back-ended improvement in consumer demand both from the rural and urban consumer and continuation of a frustratingly slow cyclical investment recovery would be the features of growth in 2016-17," the report said.
Indian economy grew 7.9 per cent in the March quarter and recorded a 5-year high growth rate of 7.6 per cent for 2015-16 on robust manufacturing growth.