The government has asked industry to provide a list of Chinese suppliers that would like to shift some capacity to India provided they are willing to set up JVs with Indian companies.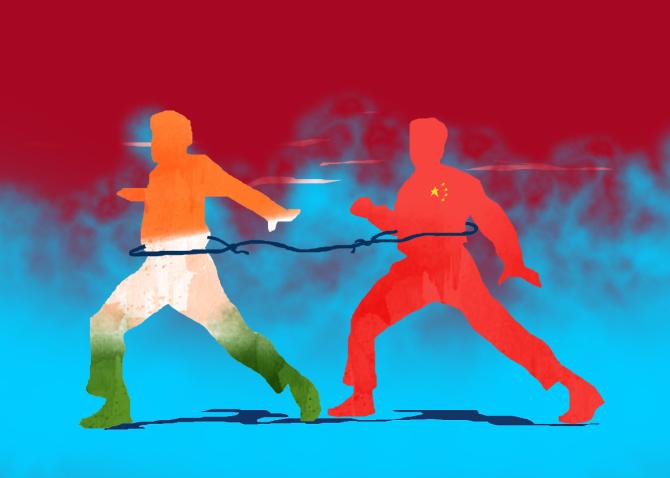 Chinese companies will need to concede a majority 51 per cent stake to their Indian joint venture partners for setting up a component manufacturing plant in the entire mobile device and electronics supply chain ecosystem in the country.
Says a top government official, "The consensus that is emerging is that in such JVs Indian partners should have a majority 51 per cent stake, so they have control over the management and the board."
The move is significant as many global as well as Indian companies seeking JVs with Chinese companies in the mobile device component space say that the foreign direct investment cap should be linked to the technology intensity required for the product which the Chinese companies are willing to transfer.
The Indian Cellular and Electronics Association has suggested caps to the government based on a graded system.
It has suggested, for example, an FDI cap of 51 per cent in passive and active components, camera modules, connectors, ringers, amongst others.
However, it is comfortable with 49 per cent in mechanics, microphones, key pads, and so on.
In other areas like packaging, it has suggested a cap that is as low as 24 per cent.
This would ensure that the country does not have to depend on imports from China, but can do value addition of these key components in India, providing it more security in the supply chain.
Some global players are pushing for a 50-50 equity structure, pointing out that without such a split, most Chinese component makers might not want to share their technology at all.
Over the past few months there has been a subtle shift in the government's stance on Chinese FDI which got stymied after the escalation in the Sino-Indian border tensions in 2020.
However, some leeway has been given after persistent demand from global and Indian companies in mobile devices and other areas of electronics that Chinese support would be needed to build the supply chain if the country wants to achieve its ambitious export target in this sector.
The government has now asked Indian companies to provide a list of Chinese suppliers that would like to shift some capacity to India provided they are willing to set up JVs with Indian companies.
After a preliminary screening by the government, the Chinese companies will have to negotiate a JV with Indian players.
In the final phase, they will have to go back to the government for FDI clearance under the Press Note 3 of April 2020, which is the government order requiring FDI approvals for investment proposals by companies with which India shares a land border. The rules under Press Note 3 have not been relaxed.
Under this policy, Apple Inc, which is planning to shift 12-20 per cent of its iPhone assembly by value to India by 2026, managed to get approvals for investments by 14 Chinese component suppliers out of a list of 17.
Ten of these have been in India from before the Press Note 3 days. But sources explained that preliminary approvals were taken even for these companies because they would have had to apply again to the government for a joint venture if they want to bring in more investment.
Mobile phone maker Lava International is in advanced talks with Chinese original design manufacturer Huaqin, the world's largest player in this space for mobiles and tablets, for a joint venture. And Dixon Technologies is discussing potential JVs with Chinese companies in the components space.
Nearly 80 per cent of the global mobile device supply chain is in China and is run by Chinese companies.
India has big plans in this space.
Under the production-linked insurance (PLI) scheme, the government aims to hit a value addition of 40 per cent by 2026 (it is currently at 12-18 per cent, after two years of the PLI programme).
India's ambition to become a global hub for exports by 2026 cannot be achieved without a vibrant domestic supply chain.
The country wants to hit $300 billion in electronics manufacturing in the next three years, with overseas sales touching $120 billion. More than half of that is projected to come from mobile devices.
Feature Presentation: Rajesh Alva/Rediff.com