Most markets have seen significant erosion in investors' wealth this year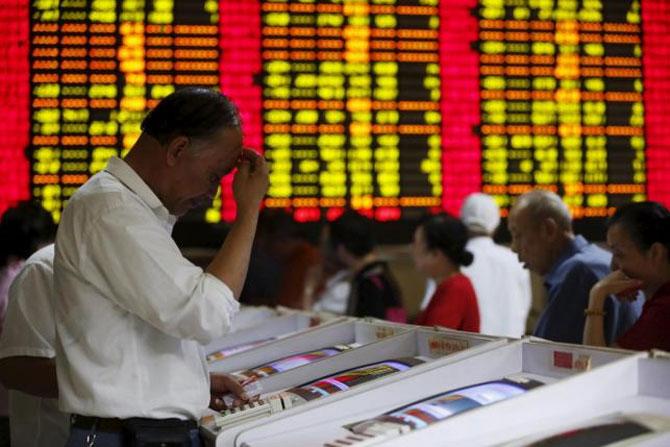 The latest turmoil in the China market has eroded seven per cent or $4.5 trillion-three times the size of the Indian one-from world equities.
This took place in the first five sessions of 2016, the worst-ever start to the year for many markets. The fall in the China markets is on concerns around its economy and weaker outlook. Heightened volatility here-its benchmark indices have dropped a little over six per cent on three occasions this year- has triggered a global risk-off trade, hurting demand for riskier assets.
China's decision to devalue the yuan against the dollar has further spooked investors, sparked a flight of capital and raising worry over a currency war.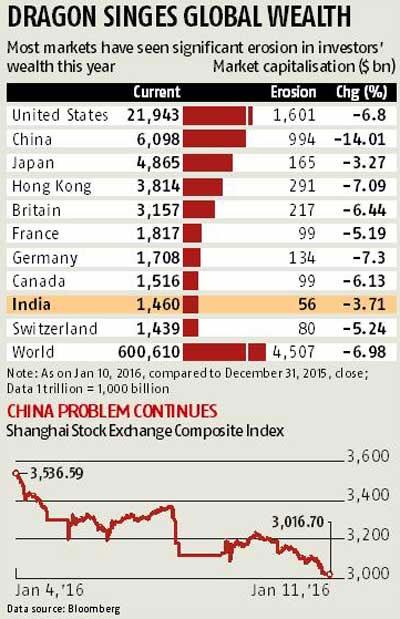 China has accounted for around 15 per cent of the erosion in world market capitalisation (m-cap) in 2016. The world's second biggest economy has seen its m-cap drop nearly $1 trillion, to $6.1 trn. The US has seen a $1.6 trn drop in value, with its mcap slipping below $22 trn. The world's largest economy accounts for a little over a third of the global total.
China turmoil wipes $4.5 trillion off global equities in five sessions The fall in the Indian markets has been relatively less, around four per cent, a best-performer among major global markets in 2016. India is the world's ninth biggest in m-cap and has seen its value decline by $56 billion to $1.46 billion.
Experts say further correction in the Indian markets could hinge on the rupee's movement. If China's currency declines further, it would hurt domestic equities.
"Growth slowdown in China, its shrinking current account surplus and decline in foreign exchange reserves for the first time in over 20 years has flipped around the pressure China faced during 2004-06 to appreciate the yuan.
Fiscal expansion, lowering of policy rates and rebound in money supply growth implies the yuan can weaken further, eventually to 8.0-8.3 against the dollar. Increasing the exchange rate flexibility amid an overvalued currency would aid the depreciation," says Dhananjay Sinha, head of institutional research at Emkay Global Financial Services.
Foreign institutional investors (FIIs) have pulled out a little over $4 bn from the Indian markets since August 2015, when China surprised the world by devaluing its currency by two per cent. So far this year, FIIs have pulled out nearly Rs 3,000 crore (Rs 30 billion) from the Indian market.
"China's slowdown, combined with fear of US Fed rate hikes and price weakness in commodities, led to quite a forgettable year for emerging market investors. Though India has been a partial beneficiary from the commodity rout, it continued to see selling pressure from FIIs," said a Kotak Securities' note.
"Receding global liquidity impacting portfolio flows into India equities is unsurprising. It can continue in 2016," said Sinha.