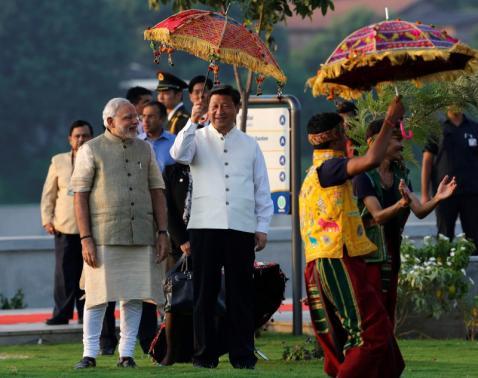 China and India should not get involved in a battle over GDP growth rates and step up cooperation instead to complement their growth, state media said on Thursday, amid projections by IMF that India will overtake China by 2017.
"Neither China nor India should be involved in a battle of who is developing faster, or whose system is superior to the other. They should focus on in what fields they can enhance cooperation and complement each other economically," an article in Global Times said today.
China posted 7.4 per cent growth last year, its lowest in 24 years. The IMF in its last report said China's growth rate would further decline to 6.8 this year and 6.3 next year falling behind India's 6.5 per cent.
"China's development experience shows that once the growth rate of a big developing country with a large population, a wide range of industries and a solid foundation of development starts accelerating, it is bound to create more opportunities for its neighbours and the world to share its economic achievements," the article said.
"The rule also applies to India. India's accelerating economic growth depends on its open trading system and vice versa. Only by sharing profits with neighbouring countries, including China, can India sustain its economic growth rate.
After all, under the background of globalization, no one can notch up rapid development with a closed door anymore," it said.
China enjoys a dominant position in the manufacturing industry, especially given its advantages in low-end manufacturing.
If India could leverage these, with its own labour cost advantages, it could create more jobs and raise the role of manufacturing in its own economy, it said.
"Most important of all, India will have a united, disciplined and skillful middle class by absorbing the huge numbers of rural laborers into its manufacturing industry," it said.
© Copyright 2023 PTI. All rights reserved. Republication or redistribution of PTI content, including by framing or similar means, is expressly prohibited without the prior written consent.