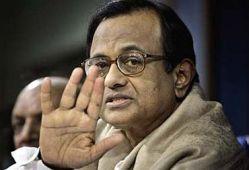 Finance Minister P Chidambaram said fears the Federal Reserve would start reversing its US monetary stimulus programme were unfounded but his remarks failed to prevent steep falls in domestic markets on Tuesday.

The Nifty slumped more than 2 per cent, while the rupee fell to a more than 8-1/2 month low.

The falls, tracking weak Asian markets, came a day after Federal Reserve Chairman Ben Bernanke suggested bond purchases could be scaled back if the US economy improves.

Although minutes from the Fed on the same day showed the bar for any wind-down would still be high, investors fretted about the prospect nonetheless.

The increased liquidity created by these U.S. bond purchases are seen by analysts as having contributed to flows into emerging markets such as India.

Foreign investors have been strong buyers of domestic debt and stocks this month, boosting sentiment.

India has also come to depend on these capital flows to help narrow a current account deficit that hit a record high in the December quarter.

"We have been looking at what's been happening in the market. We think that the Federal Reserve Chairman Bernanke's statement has been misunderstood or misinterpreted," Finance Minister P Chidambaram told a hastily called news conference.

"If you look at the statement carefully, he has clearly indicated that he will continue with quantitative easing in the foreseeable future."

Bernanke's comments have raised fears among domestic investors about the potential fallout from an end to the Fed's so-called quantitative easing.

Foreign institutional investors have bought more than $5 billion of debt and stocks this month, sparking a rally in markets.

Gains have also been aided after sharply easing wholesale inflation data has bolstered expectations the Reserve Bank of India would again cut interest rates in June, after already easing three times this year.

"Any further confirmation by the Fed to taper the QE3 will add to the weakness in the rupee," said Abhishek Goenka, chief executive of India Forex Advisors in Mumbai.

"Further, the end of QE will impact the Indian corporate and local market heavily as it will lead to reduction in the overall flow in the country," he added.

India's record current account deficit has been a key reason behind why Standard & Poor's and Fitch Ratings cut their outlooks on the country's sovereign rating to "negative" last year.

Meanwhile, the central bank expects the economy to grow 5.7 percent this fiscal year.

Although up from 5 percent the previous year, that is considered a grim outlook for a country that aspires to double-digit growth and is also fighting a ballooning fiscal deficit.

The Nifty ended down 2 per cent (127.45 points), while the rupee was trading at 55.74 at 3:44 p.m. versus its close of 55.46/47 on Wednesday.

The currency fell to as low as 56.01 per dollar earlier, a level last seen on September 6, 2012.

Chief economic adviser Raghuram Rajan said on Thursday there was no reason for the currency to be unstable and that the government is not targeting any level for the rupee.

"There is no direction that the government wants if the rupee stays reasonably stable," Rajan said, "Clearly, stable rupee is something that is justified and the government will be comfortable with."
Image: P Chidambaram

(Additional reporting by Anurag Kotoky, Archana Narayanan in Mumbai)