Facebook enabled users to mark themselves safe in Chennai since Thursday morning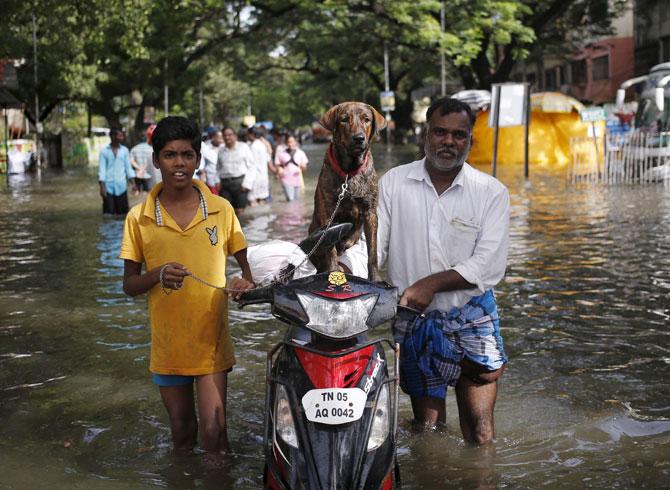 Companies and start-ups, which have been closed for the past three days because of the Chennai flood, are helping with the rescue and relief operations, using technology or by volunteering.
Life in India's southern metropolis has been out of gear since Tuesday, when heavy rain - the highest in a century — inundated its streets and public facilities, including the airport. Till Wednesday morning, the city itself got 340.8 mm rainfall. About 300 people have been killed in rain-related incidents.
Medical facilities are often the first to swing into action in case of any natural calamity.
Apollo Hospitals and Pharmacy took to Twitter to advise patients on how to reach its facilities or what to do in case of an emergency.
Google launched South India Flooding, a crisis response tool, providing emergency helpline numbers, list of places and people offering shelter, and maps of flooded streets. It also provides important tweets, news updates and videos. A Google spreadsheet is also providing important information.

Facebook enabled users to mark themselves safe in Chennai since Thursday morning.
ICICI Bank and State Bank of India on Saturday said they would waive off penalty for their customers in Chennai for delay in paying credit card dues and EMIs.
Telecom companies are working round the clock to restore connections. A group of six engineers of a large company has stayed put on duty for 53 hours to ensure that connections were not disrupted. "We survived on biscuits. The company could not send us food as the whole area was flooded," said one of the engineers who did not want to be named.
Airtel users have been given talktime of Rs 30, along with of 10 minutes of free calls within its network. Prepaid customers have also got 50MB free data. All this is valid for two days. Postpaid customers can pay their bills later - their services will not be disconnected even if they fail to make payments. BSNL is also providing free services.
The companies, too, are taking measures to help employees who have been stranded or are volunteering to finish important projects.
Information technology (IT) majors have been providing relief material and arranging accommodation and food to employees stranded in their offices. Some have also provided transport to their employees to move out of Chennai.
"We have made necessary arrangement for employees who chose to stay back at our offices and work on important projects," said a Cognizant spokesperson. "We have implemented our business continuity plan are closely monitoring the situation."
HCL Technologies has also implemented its business continuity plan and is offering employees a "flexible work schedule", informing them about it on email.
Wipro employee have been taken from Chennai to Bengaluru - a distance of about 350 km - in 100 buses.
Start-ups, too, are stepping up to their bit in this crisis.
DocsApp, a mobile phone and online medical consultation app, is offering free online consultations for Chennai residents. Practo, the doctor-discovery platform, has put out a locality list of doctors and hospitals available to help.
Ola, the online taxi hailing service, is sending out boats to rescue people in the water-logged areas. Ola has handed over boats to the fire department, which has deployed them in Saidapet and Ekkaduthangal . It also created raincoats and umbrellas and set up shelters in different parts of the city.
Paytm is offering free mobile recharges to help residents stay connected. It is facilitating free recharge of Rs 30.
Food delivery start-up Zomato has started "Meal for flood relief" delivery service. When one customer buys a meal, Zomato provides another to someone stuck in a submerged area.
"Our users have bought over 55k meals Zomato makes it 110k," company was quoted saying.
Delhi-based data analytics start-up SocialCops has partnered with a non-government organisation to start a crowd-sourcing effort to map inundated roads in Chennai. People can zoom in on the maps and check the status.
BlaBlaCars, the ridesharing app, has agreed to tag its vehicles moving from Bengaluru and neighbouring cities, to carry relief material to Chennai in coordination with volunteers.
Banks have decided to go easy on Chennai residents who trip on their EMI payments this month.
India's largest private sector lender ICICI Bank on Saturday said it would waive off penalty for its customers in Chennai for delay in paying credit card dues and EMIs for November.
Photograph: Anindito Mukherjee/Reuters