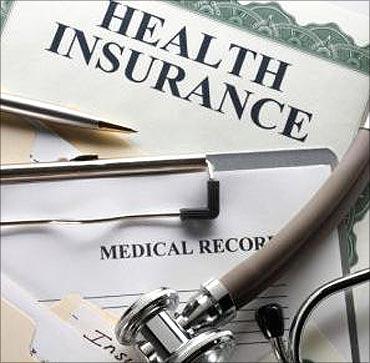 The government must not enter into what will be a little more than a large-scale transfer of taxpayers' money to the operators of private hospitals.
It was reported on Monday that the government is likely to move forward on a universal health insurance plan.
Several states already provide 'cashless' health insurance schemes to their citizens, and the Centre wishes to integrate these on its direct benefits transfer platform, which the present government calls 'JAM', short for Jan-Dhan Yojana, Aadhaar, and mobiles.
Once this integration takes place in one of the frontline states -- perhaps Tamil Nadu or Gujarat -- then the plan is to scale it up across the country.
If this is indeed the government's intention, then it is a disturbing development.
Not only will it suffer from problematic fiscal implications, it will also severely distort the healthcare sector while not providing sensible and secure health coverage to a seriously under-served population.
In essence, such plans will amount to a subsidy for private tertiary healthcare providers, who will be the point of call for most patients.
Citizens' out-of-pocket healthcare expenses may apparently go down at first, as the government picks up some of the co-payment of premiums and so on.
However, the dynamics of the sector are such that there is no reason that costs would not then escalate to once again raise out-of-pocket expenses to the exact level they were before the intervention, since that is clearly what the citizenry is willing to pay.
All that will have happened is a direct transfer from the taxpayer to the healthcare provider.
It is no surprise that, on the belief that such schemes are imminent, the healthcare business is booming.
The recent initial public offerings of various healthcare sector businesses suggest that investors have understood this possibility.
Narayana Hrudayalaya's Rs 613 crore (Rs 6.13 billion) initial public offering of shares was subscribed eight times. Earlier in December, similar share issues by Alkem Laboratories and Dr Lal Path Labs were subscribed 44 and 33 times respectively.
Other IPOs such as those of InterGlobe Aviation (the parent company of IndiGo) or of Coffee Day Enterprises did not evoke a similar response.
Cost escalation under such universal health insurance subsidy schemes is a widely observed phenomenon.
In India, the problem is compounded by the difficulties faced by those targeted by such schemes -- the poor and the under-served -- in using the complicated insurance systems being devised.
The experience with such mechanisms in India has not been positive.
Even well-implemented schemes like Andhra Pradesh's long-running medical insurance scheme found it tough to cope with the demands for cost increases from private hospitals.
The Andhra Pradesh scheme was discovered to have a significant bias towards paying for serious and intrusive procedures that required surgery and hospitalisation, rather than towards cheaper, less intrusive -- and possibly more effective -- procedures.
Studies have shown that such schemes in central Indian states cause a large number of unnecessary hysterectomies to be carried out on women who could not contradict the demands of their doctors. Meanwhile, Andhra Pradesh swiftly found the cost of its scheme unsustainable and approached the Centre for financial assistance.
The government must not enter into what will be a little more than a large-scale transfer of taxpayers' money to the operators of private hospitals.
Better healthcare in India is a moral and practical necessity.
But the only cost-efficient and implementable way to do this is through the public provision of services. Public healthcare spending must be scaled up; universalisation of access is what is needed, not universal health insurance subsidies.