With infrastructure claiming a larger share, movement and distribution of cement is bound to change.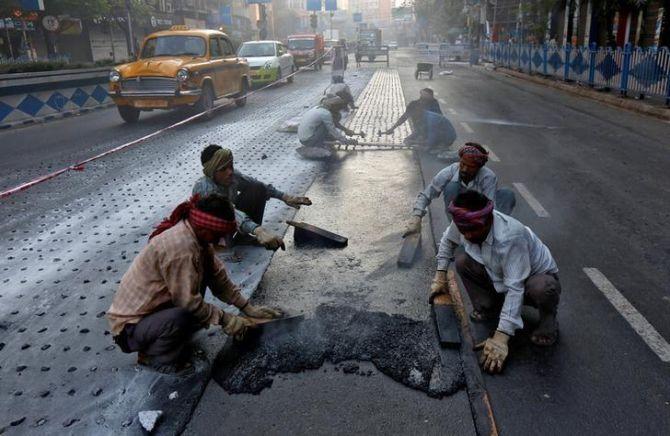 The government's infrastructure push is seeing a demand shift in the cement sector.
The housing segment - which accounted for 60 per cent of the overall cement demand - is losing out to the mega infrastructure projects being undertaken in the country.
Based on industry estimates, the last few years saw cement demand for the infrastructure sector rise by a whopping 5 per cent.
H M Bangur, managing director at Shree Cement, pegs the current infrastructure share in the overall demand at 20 per cent, higher from 15 per cent two years back.
"State and central government road projects and other infrastructure like ports have spurred demand for cement," Bangur added.
In a March 2019 note, rating agency CRISIL said 7,400 km of road projects were awarded in FY18.
It expects 4,000-4,500 km in FY19 and another 4,000-5,000 km to be awarded in FY20.
Atul Dagga, executive director and chief financial officer at UltraTech Cement, said the cement industry was moving towards institutional demand.
"Infrastructure and low-income housing segments have been eating into the share of rural and urban housing.
"Clearly, the cement industry in India is institutionalising," said Dagga.
The change in demand profile is here to stay. "One can look at infrastructure contributing to 30-35 per cent of the total demand in the next five years or so," said Shailendra Chouksey, whole-time director at JK Lakshmi Cement.
"In a developed economy, the share of infrastructure in cement consumption is larger than the share of housing. It can be as high as 70-80 per cent."
With infrastructure claiming a larger share, movement and distribution of cement is bound to change.
"Movement of bulk cement (required for infrastructure) by road has certain constraints and hence is not economically viable for longer leads (distance between plant and market).
"However, with expansion of grinding unit network, lead distances are shrinking and the share of bulk cement is gradually going up," Chouksey said.
He added, "The share can further go up if cement hubs or cement terminals are developed at major consuming markets."
Others like Bangur expect changes in the logistics plan, but at a gradual pace.
While cement companies stand to gain on logistics cost, increase in infrastructure demand makes margins dearer.
"Selling to institutions is certainly more competitive and less price remunerative as compared to selling in retail. But the cost of selling is lower," Chouksey said.
However, advertising spends are expected to remain unchanged. In a bid to cater to the retail housing demand, cement companies set aside significant advertisement expenditure.
The country's largest cement producer Ultratech , for instance, spent Rs 245.72 crore as advertisement expense in FY18, according to its annual report.
This was higher than the Rs 184.33 crore spent in FY17.
"In the current demand-supply situation, all demand needs to be met. So, ad-budgets continue as it is also seen as an exercise to create brand awareness," said Mahendra Singhi, president of Cement and Manufacturers' Association.
With an industry utilisation rate of 70 per cent for the first half of FY19, the demand-supply mismatch continues.
Chouksey added that cement producers, at present, look at the infrastructure market to sell that excess supply which cannot be absorbed by retail sales.
However, he expects things to change in the long run when institutions would command a large portion of the total cement demand.
Photograph: Rupak De Chowdhury/Reuters