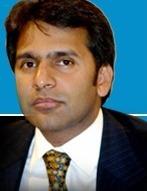 The officers did not arrest Neeraj Singhal despite CBI Director Ranjit Sinha's orders.
The Central Bureau of Investigation (CBI) has ordered an internal inquiry against its own officers probing the bribery scandal involving Syndicate Bank's now-suspended chairman & managing director, S K Jain.
The latest inquiry relates to CBI officials not arresting Neeraj Singhal, vice-chairman & managing director of Bhushan Steel, one of the companies that were allegedly trying to settle their loan dues by paying a bribe.
The CBI team had orders from Director Ranjit Sinha to arrest Singhal but they allowed him to leave from his Delhi bungalow last Saturday.

The investigation to find out the reason for this lapse will be conducted by a separate team of the agency's officers.

Jain, along with eight others, including Prakash Industries Chairman & Managing Director Ved Prakash Agarwal, were arrested in this case on Saturday.
On Friday last week, 200 CBI officers, some senior officers and sub-inspectors, and independent witnesses raided 20 places across Bangalore, Bhopal, Mumbai and Delhi.
Singhal was instrumental in passing on the bribe money to Jain and was present in his house when the CBI team reached the spot for search and raid operations.
"Singhal is on the run from the time of the raid and we have been trying to trace him since, so that he can be arrested," a senior CBI official said.

Singhal was asked by the CBI officers to join investigations at the time of raids and not arrested immediately. The team did not anticipate Singhal would flee the next day, the senior official added. "He should have been picked up immediately and a decision on arrest could have been taken later."
The agency is also examining other loans given by Syndicate Bank during the tenure of Jain, who was found demanding a bribe of Rs 50 lakh from Singhal in exchange for converting his bad loan into a non-performing asset (NPA). In a separate inquiry, CBI is examining the NPAs of some public-sector banks, at the reference of the finance ministry.
While Bhushan Steel had taken a loan of Rs 100 crore (Rs 1 billion), Prakash Industries had borrowed Rs 120 crore (Rs 1.2 billion) from Syndicate Bank.

Both allegedly tried to settle the outstanding loan by bribing Jain. Apart from Singhal, middleman Purshottam Lal Totlani has also been evading arrest. CBI has arrested nine accused in this case, including Jain, his two brothers-in-law, Prakash Industries' Ved Prakash Agarwal and another company executive Vipul Agarwal.
CBI also seized Rs 50 lakh that Jain had allegedly received as bribe. CBI alleged Jain enhanced the credit limit for certain private parties, bypassing the rules and regulations. These companies were embroiled in the coal scam, too.
Syndicate Bank had reported a 7.3 per cent rise in net profit to Rs 485 crore (Rs 4.85 billion) for the quarter ended June, compared with Rs 452 crore in the same quarter last year.
The bank's total income rose 16.8 per cent to Rs 5,523 crore (Rs 55.23 billion) from Rs 4,726 crore (Rs 47.26 billion) in the year-ago period. Lower provisions during the quarter - Rs 468 crore (Rs 4.68 billion) against Rs 489 crore (Rs 4.89 billion) a year ago — helped the bank show better profits.
SCANNING ITSELF
The probe: Against CBI officers who allowed Bhushan Steel MD Neeraj Singhal to leave his bungalow on Saturday, despite Director Ranjit Sinha's orders for arrest
The case: Singhal, besides some other private parties, allegedly bribed Syndicate Bank CMD S K Jain for classifying their bad loans as NPAs and increasing their credit limits
Current status: Singhal and middleman Purshottam Lal Totlani are on the run and CBI officers are trying to arrest them