The PNB ambassador is Virat Kohli, Priyanka Chopra and Siddharth Malhotra are the faces of the Nirav Modi label, Kangana Ranaut, Kriti Sanon and others endorse the family of brands under the Gitanjali Group.
Urvi Malvania and Viveat Susan Pinto report.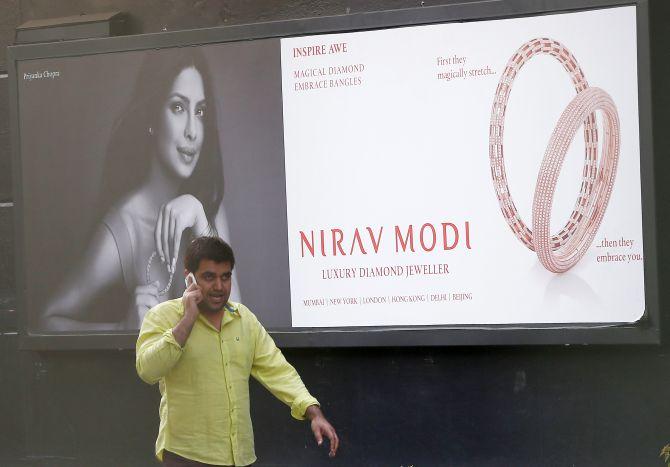 IMAGE: A Nirav Modi showroom in New Delhi. Photograph: Adnan Abidi/Reuters
Diamonds, a bank heist, a glitzy set of actors and flashy businessmen and an international man hunt for criminals -- the Rs 114 billion Punjab National Bank-Nirav Modi scam has all the makings of a Bollywood potboiler.
But before someone turns it into a script, the unfolding story could end up turning the knife deeper into the brand-endorser relationship that has endured a few hard knocks in the recent past.
The big question is whether endorsers are accountable for the frauds commited by the brands they endorse?
"I find this whole debate irrational," says Santosh Desai, MD & CEO, Future Brands. "How would a brand ambassador know of something like this? Senior officials were not aware. The investigative authorities were not aware. How would the endorser then know?"
"This is not to say that the endorser should not do due diligence. But I find this argument completely out of place," says Desai.
This is not the first time that such questions have arisen though.
In 2015, the Nestle-Maggi scandal put Amitabh Bachchan and Madhuri Dixit under the scanner and in 2016, M S Dhoni was hauled over the coals on social media over his association with real-estate group Amrapali.
Over the years, there have been other such instances and that has prompted the government to look at ways to strengthen the Consumer Protection Act.
Now the PNB scandal is bound to raise fresh concerns and make endorsers and brands more wary of signing up with each other.
The scandal casts a long shadow. The PNB ambassador is Virat Kohli, captain of the Indian cricket team, Priyanka Chopra and Siddharth Malhotra are the faces of the Nirav Modi label, Kangana Ranaut, Kriti Sanon and many others endorse the family of brands under the Gitanjali Group which is owned by Mehul Choksi, Nirav Modi's uncle and also on the run.
Kohli is undoubtedly the hottest brand among celebrities and PNB has used him extensively for television and print campaigns. Kohli has maintained that he chooses to endorse products and services that he either has an experience with, or has confidence in.
For PNB, he said that he had banked with them from the age of 16. Of course, there is no way Kohli could have foreseen the big bank fraud, but Brand Virat is unlikely to escape unscathed.
Ditto for Priyanka Chopra who is trying to build her reputation as a bankable international star.
"While there have been instances where the brand ambassador should have been careful like the Dhoni-Amrapali case, the PNB issue does not fall in this bracket," says N Chandramouli, chief executive officer, TRA.
"No brand ambassador would have known about it. However, the unfortunate side of being a public figure is that he or she finds himself or herself in the firing line. This is inescapable."
Brand managers for celebrities say they are aware of the potential threat.
Anirban Das Blah, founder KWAN, an entertainment agency says that celebrities are getting more cautious. Contracts are getting more airtight.
There is an attempt to professionalise the endorsement business with management teams keeping track of every aspect of the brand's journey, he says.
With controversies such as this one, experts say, ambassadors will get even more cautious, especially when it comes to associating with categories like jewellery.
However, jewellery labels and celebrities go back a long way. Be it Hollywood, where leading ladies walk the red carpet during the Oscars and other award ceremonies wearing their favourite labels, or Bollywood where brands get actors to wear their designs in a film and at public events.
The scandal is unlikely to snap these ties, but it will definitely make uneasy bedfellows out of the two.