An RBI official said the supply of currency was adequate in the states facing a crunch at ATMs but the logistic issues led to the present situation
Illustration: Uttam Ghosh/Rediff.com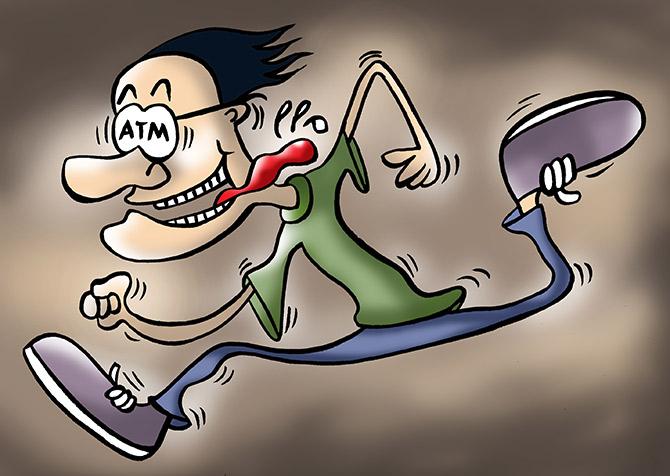 States such as Andhra Pradesh, Bihar, Madhya Pradesh and Gujarat, which reported currency shortage in automated teller machines (ATMs) were the ones that got the highest supply of currency notes in 2017-18.
The Reserve Bank of India's (RBI's) regional offices at Hyderabad, Ahmedabad, Nagpur, Patna and Bhopal received the highest chunk of the currency from the note printing presses between April 1, 2017 and February 28, 2018, official data showed.
The finance ministry said in a statement on Tuesday that there has been an "unusual spurt in currency demand in the last three months" in some parts of the country, including Andhra Pradesh, Telangana, Karnataka, Madhya Pradesh and Bihar.
An RBI official said the supply of currency was adequate in the states facing a crunch at ATMs but the logistic issues led to the present situation.
Hyderabad received Rs 90,600 crore - the highest among all regional offices - in the period preceding demonetisation of high-value currency notes of Rs 500 and Rs 1,000 announced on November 8, 2016, till March 31, 2017.
In fact, the share of currency supplies to Hyderabad went up from 8.2 per cent in this period to 9.2 per cent in April-February 2017-18, despite being the highest receiver of cash immediately after demonetisation.
The RBI's regional office at Hyderabad supplies money to banks in Andhra Pradesh and Telangana.
Ahmedabad received the second highest share (6.9 per cent) of currency notes between April 2017 and February 2018 in terms of value, followed by Nagpur (6.7 per cent), Patna (6.7 per cent) and Bhopal (6.6 per cent).
While the RBI's regional office at Ahmedabad supplies currency to Gujarat, Daman and Diu and Dadra and Nagar Haveli, the Patna office distributes money across Bihar and Jharkhand.
The RBI's Nagpur office sends money to parts of Maharashtra, Madhya Pradesh and Chhattisgarh and the Bhopal office to parts of Madhya Pradesh and Chhattisgarh.
This points to the high supply of currency notes to Madhya Pradesh and Chhattisgarh as well.
The chief ministers of both the states recently complained of a cash shortage at ATMs.
The share of currency supplies to Nagpur, Patna and Bhopal went up by around 1.4-2.4 percentage points from the first three months after demonetisation to April 2017-February 2018.
However, Karnataka, which also witnessed some cash crunch, was a different story.
Currency supplies to Bengaluru, which pumps money into banks in Karnataka, declined from 6.9 per cent, in the period between November 8, 2016, and March 31, 2017, to 5.7 per cent between April 1, 2017 and February 28, 2018.
Looking at the overall picture, the total cash supply across the country reduced by almost half between April 2017 and February-end 2018 compared to the first five months after demonetisation, official data reviewed by Business Standard showed.
From November 8, 2016, to March 31, 2017, Rs 10.986 trillion was supplied from the currency presses to Rs 592,900 crore in the first 11 months of 2017-18.
"Demonetisation led to flushing out of around 85 per cent cash from the system. So, the cash supply will naturally be much higher in the first few months than the preceding period.
"You had to work in three shifts and ensure that you had to remonetise as quickly as possible.
"It required printing as many notes as possible. The same temper was not required to be maintained subsequently," the RBI official said.