At ATMs, as a step to avoid getting Rs 2,000 notes, people are withdrawing Rs 1,900 in Rs 100 notes and then putting another request for the balance Rs 600, so that they remain within the limit of Rs 2,500 per day of withdrawal.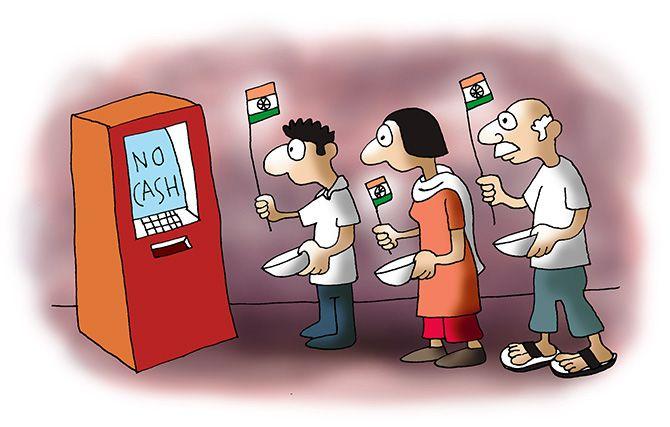 Demonetisation: Taxmen home in on note-freeze dodgers
I-T dept has sent 600 notices to jewellers across 25 cities, asking them to detail daily sales, report Dilasha Seth & Indivjal Dhasmana.
A jeweller flew from Bengaluru to Goa, checked into a five-star hotel, sold jewellery worth Rs 45 lakh (Rs 4.5 million) to a doctor staying in the same hotel, only to be busted by income-tax (I-T) sleuths.
A search on the buyer led to recovery of Rs 3 crore (Rs 30 million) worth of jewellery.
This is one of the modus operandi by black money holders to use their scrapped Rs 500 and Rs 1,000 notes, cracked by the tax department since the government's demonetisation move on the midnight of November 8.
"A door-to-door sale is being offered by jewellers to their old or loyal customers. We will nab them all, irrespective of the cities they are carrying out these rackets"" said a senior Central Board of Direct Tax (CBDT) official.
The I-T department says it is getting black money holders dodging the system under its lens.
They have, it says, been using innovative ways to get rid of Rs 500 and Rs 1,000 currency notes.
In one instance, the department found sale of a diamond necklace was split into four bills, with different permanent account numbers (PANs).
Jewellers are formally required to take the PAN of a buyer purchasing jewellery for more than Rs 2 lakh.
The department has sent around 600 notices to jewellers across 25 cities, asking them to detail daily sales.
Those in major cities are under scrutiny in this regard; this could later extend to other cities.
People are sending up to 25 servants to exchange notes from different banks.
In response, the finance ministry first made it mandatory to apply indelible ink on persons exchanging notes and, then, on Thursday, lowered the limit of money that can be exchanged from Rs 4,500 to Rs 2,000.
Surveys are being conducted to detect errant assessees. "They are misusing the generosity," said one.
CBDT Chairman Sushil Chandra is learnt to be doing regular video conferencing, with I-T officers taking updates from the surveys.
Bullion traders cancel gold import orders
Cancellations after government announces it will monitor bank deposits, reports Rajesh Bhayani.
Several small jewellers have given 'stop import' orders to their banks, bringing down the amount of gold coming into the country in the past two days.
After Prime Minister Narendra Modi announced the demonetisation of Rs 500 and Rs 1,000 notes on November 8, some jewellers were selling gold at high premium for the old currency.
However, the income tax department announced that saving bank account deposits above Rs 2.5 lakh and current account deposits above Rs 10 lakh, between November 9 and December 30, would attract scrutiny.
As a result, jewellers have cancelled their gold import orders.
This is only for small jewellers in the unorganised sector. Big jewellers still continue to import gold for their regular business activities.
A banker still getting import orders for gold from big jewellers said, "Our import is as usual and steady after Diwali."
A week after demonetisation, gold worth a billion dollars worth was imported. But, in the last couple of days, with the I-T department issuing 600 notices to jewellers, and also asking banks to report deposits, the thrifty 'business' of transferring old currency into gold has been hit.
The Indian Bullion and Jewellers Association had also threatened to ban gold import a few days ago.
Besides, the jewellers are also wary of more crackdowns on the bullion market, as Modi announced in Goa last Sunday, November 13, that he would go after people with 'black' money and his next aim would be benami properties.
Market observers said the demand for gold was at rock bottom even though the marriage season has started.
Sources said though jewellers had stopped exchanging old currency notes for gold, some chartered accountants were still trying to help their clients transform their black money stashes into white wealth.
Rs 100 notes remain in short supply, and so do 'working' ATM machines
The queues were still long outside banks, and automated teller machines continued to turn dry rather fast across cities, as Business Standard took stock of the pan-India scenario more than a week after the late evening announcement banning Rs 500 and Rs 1,000 currency notes.
Life hasn't been the same ever since, as people of all strata joined the queue at all times of the day and night, to stay there for hours and many times returning home without any cash.
Even as plastic use has jumped many times and digital wallet has ruled, ATM hopping has become a part of the daily routine during the past one week in search of currency that has gone missing.
In New Delhi, while ministers, bureaucrats and politicians made noise over the rights and wrongs of the demonetisation move, logistics at banks remained stretched even on Day 8.
The common complaint heard in New Delhi was that only Rs 2,000 notes were being given out by banks, even as customers found it tough to get the big currency changed at any shop.
Rs 100 notes remained in short supply, and so did 'working' ATM machines.
"Getting inside bank branches has been a task in itself, leave aside the long wait for money," an account holder said, after two hours of wait.
Fights were commonplace over the quantum of cash that one replaced or withdrew, but so were examples of charity where tea and water was being served for free to keep the spirits of the people going.
Indelible ink, which became a part of the currency exchange regime earlier this week, too became a point of contention.
In Ahmedabad, for instance, non-availability of indelible ink resulted in chaos in several branches.
"While most banks have sought for and have been given additional personnel, many are working till midnight, as the queue refuses to shorten amidst non-availability of the indelible ink," a manager said.
Only a few nationalised banks have received the indelible ink, and they are yet to start using it, said a source.
According to the Maha Gujarat Bank Employees Association, as per the Reserve Bank of India guideline, indelible ink is to be first used in metros as a pilot.
In Mumbai, ATM networks were only partly functional and bank branches took all the pressure.
Improvement was minimal was how customers reacted when asked whether things were getting better.
"Most ATMs remain non-operational for want of cash or awaiting recalibaration to be able to dispense new notes."
Also, uncertainty of accessing cash was making people nervous.
"There is neither any communication of a clear timetable for recalibration nor any sign of improvement any time soon," another customer said outside a Mumbai bank.
Then there were tricks at play.
A State Bank of India group official said at ATMs, as a step to avoid getting Rs 2,000 currency notes, people are first withdrawing Rs 1,900 in Rs 100 notes and then putting another request for the balance Rs 600, so that they remain within the limit of Rs 2,500 per day of withdrawal.
Kolkata was no different. Mohammad Zariuddin, a tailor, said he was waiting in a queue for exchanging a note of Rs 500 and four notes of Rs 1,000 each at the Strand Road branch of SBI for six hours.
The branch happens to be one of the oldest and biggest offices of SBI. Close to 10,000 people have been thronging the branch each day since last week.
Meanwhile, Zariuddin and some others have been successful in rubbing off the ink (meant to mark a person who has replaced old currency once), to be able to join the queue again if there is a need.
According to RBI directives, the indelible ink can be applied by the cashier or any other official designated by the bank before the notes are given to the customer, so that while the exchange of notes is taking place, a few seconds elapse, which will allow the ink to dry up and prevent removal of the same.
Some of the Bhopal branches saw shorter queues on Thursday, but skirmishes were reported in plenty.
"Cash is not sufficient in our branches. Our ATMs are dispensing only Rs 100 notes," said a banker at the Bank of Baroda in Bhopal. But those who were repeatedly visiting branches for currency exchange have disappeared, as bankers were telling them to go for indelible ink first.
"Today, I am largely attending to my branch customers, as non-customers have disappeared," another banker at an SBI branch said.
To handle queues, innovative steps are being taken by banks.
In Ahmedabad, many banks, including private and public sector ones, have put up makeshift pandals to beat the heat, and have made arrangements for water outside the branches.
A bank manager of a nationalised bank on Ashram Road in Ahmedabad said the chaos was likely to continue through December.
Lucknow seemed to be a tad better, as the panic was subsiding. "Since an individual can only exchange money once, the queues are now shorter, compared to the early days of the announcement of scrapping of currency notes."
But, even in Lucknow, ATMs were hardly operational. Also, the new series of Rs 500 notes are still to reach the City of Nawabs.
In Chennai, customers were being turned away by banks, saying they will not exchange the demonetised currency notes and smaller denomination currencies were not available. "I have come down from Chembarambakkam (almost 20 km away from the city) to exchange Rs 3,000 and they denied, saying they don't have new notes to disburse," a customer who had already lost Rs 800 in daily wages said.
Banks see surge in card usage
Demand for Point of Sales Terminals jumps, reports Nupur Anand.
As consumers continue to queue outside banks and ATMs to withdraw cash, plastic money has come to their rescue.
With no or limited cash in the wallet, consumers have been swiping their debit and credit cards even for small-value transactions.
Rajiv Anand, retail banking head at Axis Bank, says: "We have seen that the usage of debit cards has doubled and so has the increase in usage of point-of-sales (PoS) terminals."
ICICI Bank has also seen the usage of its debit card doubling. Bankers also say they have seen a significant increase in several first-time consumers, who had earlier never used their debit cards at PoS machines.
An HDFC Bank official said in terms of volume of transactions, the usage of debit cards had risen fourfold and in value by three times.
"Earlier, we would get 3,000 to 4,000 requests for PoS terminals a month. Now, we get an equivalent number every day," said the official.
Bankers explain they are seeing a lot of demand for PoS terminals, not only from merchants, but from the smaller self-employed segment -- doctors, chartered accountants, vegetable vendors, beauty salons, etc.
"We have seen a sharp increase in request for PoS terminals, but are constrained by the number of sales staff who can deploy it. Despite that, we have seen an increase in deployment of PoS terminals by three times," added Anand.
Both the government and the RBI had been trying to push the usage of PoS machines, as the number -- compared to the cards in circulation -- was very low.
RBI data for August said there were 1.46 million PoS machines, compared to 712.46 million debit cards in circulation.
ATMs, cashless transactions at trade fair
Commerce ministry plans card swipe machines and digital-wallet tie-ups for India International Trade Fair, reports Subhayan Chakraborty.
In the face of the cash crunch from the note ban, the Union commerce ministry plans ATMs, card swipe machines, and digital-wallet tie-ups for the India International Trade Fair, in order to draw visitors to the event that opens up for the public on Saturday, November 19.
ATMs are expected to pop up on site, swipe machines at ticket counters, and digital-wallet tie-ups will likely be with Paytm and Freecharge to allow cashless transactions.
"Our projections suggest fewer people might turn up owing to the current situation," an official from the India Trade Promotion Organisation, the body under the ministry in charge of the fair, said.
A proposal to raise ticket prices has been shelved due to low turnout expectations, he added on the condition of anonymity.
The prices of tickets for general visitors have been kept at Rs 60 on weekdays for adults and Rs 120 on weekends. These can be bought online.
Based on the theme of Digital India, the fair has kicked off with 7,000 participants in an exhibition area of more than 100,000 square metres.
This year, the partner country is South Korea and the focus country is Belarus.
The fair saw business-to-business interactions and events Monday to Thursday.
During this period, business tickets, priced at Rs 500, kept smaller traders away, another official said.
Apart from ticket booths with enough swipe machines, the ministry has also promised to provide exhibitors with the machines through a tie up with SBI and Axis Bank.
This will be supplanted by a higher number of ATM machines being installed, up from 2 last year to 14 this time.
One or more mobile ATMs are also expected to be set up. However, visitors have complained of the machines running on empty, the same as others across the city.
For small artisans and exhibitors, SBI has been tied up to open bank accounts, if needed, on site.
Apart from exhibition stalls being set up by various ministries, the state governments of Punjab, Tamil Nadu, West Bengal, Bihar, Odisha, among others are expected to be major crowd pullers with a significant amount of buying and selling