Eight months after it was set up to find a successor to Tata Sons chairman Ratan Tata, the search panel has concluded that it cannot find a "replacement" for the group chief.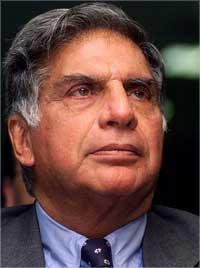 "Our committee has come to the conclusion that we cannot find a replacement for (Ratan) Tata!" said Tata Sons director and one of the members of the committee R K Krishna Kumar in an interview published on the company's website.

Group holding company Tata Sons in August last year had set up a five-member panel to find a successor to Tata, who is due to retire in December 2012 when he turns 75.

Apart from Kumar, other panel members are Tata Sons former vice chairman N A Soonawala, group director Cyrus Mistry, group adviser and lawyer Shirin Bharucha and influential British businessman Lord Bhattacharya.

Showering lavish praise on Tata, Kumar said the search panel might have to lower the benchmark to find a successor to the head of $71 billion business empire.

"He (Tata) is a born leader and you can see this wherever he goes...He has a place in the history of post-independence India", he said, adding "we may have to change and re-arrange the model in terms of what we are looking for."

"We are now considering people - from within the group and outside, including expatriates - who can fill the role we have in mind. There are challenges but we will soon come to a conclusion," he said.

Tata was the inspiration behind the launch of small car Nano. An astute business leader, he was the driving force behind Tata Steel acquiring Anglo-Dutch steel maker Corus as well as Tata Motors buying luxury British auto brands Jaguar and Land Rover.

Well respected Tata's reputation, however, took a beating after his conversation with corporate lobbyist Niira Radia was leaked. Both Tata and Radia recently appeared before Parliament's Public Accounts Committee (PAC) that is looking into the 2G spectrum allocation scam.

While announcing the search panel last year, Tata Sons had said the group would require someone with experience and exposure to direct its growth amidst the challenges of the global economy.

"The selection process for a prospective candidate would consider suitable persons from within the Tata companies and other professionals in India as well as persons overseas with global experience," it had said.