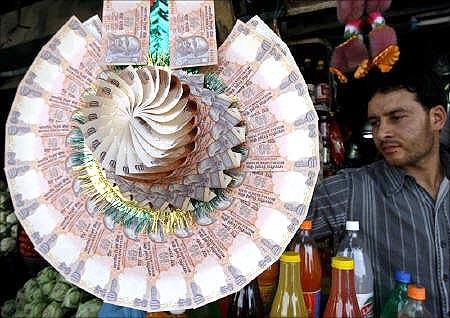 To ensure currency notes have a longer life, the Reserve Bank of India (RBI) is planning to introduce plastic currency notes as an experiment in five cities.
They'd be stain-proof and won't tear easily, though costlier than cotton fibre-based paper currency. Apart from being more durable, they will also be difficult to forge.
The banking regulator has had a clean note policy for a long while. It has tried to implement various changes like asking banks not to staple the notes and urging people not to scribble on these.

Usually, people scribble at the portion with the watermark, which is a major security feature.

If something is written in that area, there are chances that sorting machines will reject it, if unable to verify the watermark.

Due to this, some public sector banks have started rejecting notes with any scribble, though there's no such directive from the central bank. In fact, RBI has a clear policy for soiled and mutilated notes.
Soiled notes
For quicker exchange of weathered notes, the regulator has liberalised the definition of a soiled note.

It means a note which has become dirty due to normal wear and tear and also covers a two-piece note pasted together, wherein both the pieces presented belong to the same note, with no essential feature missing.

While a bank can accept such notes, RBI has mandated that they cannot issue it back to customers.
Mutilated note
If a portion of a note is missing or composed of more than two pieces, it's called a mutilated note. The regulator has asked banks to accept and also exchange these on customer request.
Burnt, charred or stuck
Banks have the right to reject notes that are extremely brittle or badly burnt, charred or inseparably stuck, as these cannot withstand normal handling. However, these can be tendered at an 'issue office', where they will be adjudicated under a special procedure.
Can banks reject scribbled notes?
No. RBI has not passed such a directive. Banks cannot reject notes that are scribbled. Only those with slogans and message of a political nature written across cease to be a legal tender. Such notes are only as good as a piece of paper.
The central bank has also mandated banks not to accept notes found to be deliberately cut, torn, altered or tampered. While it's the discretion of the bank officer to judge if deliberately cut or not, RBI believes 'a close look at such notes will clearly reveal any deliberate fraudulent intention'.

In fact, if a person offers a large number of notes that seem deliberately tampered, the regulator has mandated banks to report such cases to the local police station and also to the deputy/general manager in the area of jurisdiction.
Half the portion missing
Though RBI has not mentioned a clear procedure to deal with such notes, bankers say half a note gets half the value. For example, if a person offers half a portion of a Rs 100 note, banks can give Rs 50 to the customer.
Refusal to take a soiled/mutilated note?
It's compulsory that all bank branches display at their premises, at a prominent place, a board indicating the availability of a note exchange facility.

RBI has gone to the extent of mentioning the words that banks should use – 'Soiled/Mutilated Notes are Accepted and Exchanged Here'. Banks should also ensure all branches provide this facility and even to people who are not bank customers.
If a bank does not abide by the rules, Narayanan Raja, former chief executive of the Banking Codes and Standards Board of India, says such rejection amounts to deficiency of service. He says the person should immediately approach the bank manager and complain about the employee who refused the exchange.

"If the branch manager does not cooperate, the person should complain to the zonal or regional manager in charge of the branch in writing," says Raja. If no action is taken within 30 days, the person can approach the designated ombudsman.