A lot depends on how Srei shapes up under the new administrator and his team, which is critical for investors' interest.
Manojit Saha reports.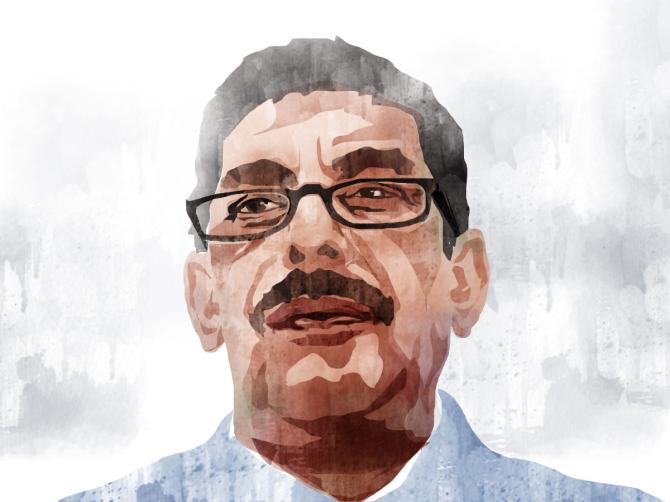 A day after the Reserve Bank of India superseded the boards of Srei Infrastructure Finance Limited (SIFL) and Srei Equipment Finance Limited (SEFL), Rajneesh Sharma, who was appointed administrator, held a series of meetings with several officials of the troubled firms -- both in the Salt Lake office and in the Vishwakarma Building at Topsia in Kolkata.
Officials who met Sharma -- a veteran banker with almost four decades of experience -- said it was evident the new administrator has a plan in mind on the transition path for both these indebted non-bank finance companies (NBFCs).
The RBI had said it intends to initiate the process of resolution of the two NBFCs shortly under the Insolvency and Bankruptcy Rules, 2019.
The RBI will apply to the National Company Law Tribunal (NCLT) for appointing the administrator as the insolvency resolution professional (IRP).
After the case is admitted to the NCLT, the IRP will try to find a suitor for the companies.
A three-member advisory committee, comprising R Subramaniakumar, former MD & CEO, Indian Overseas Bank, T T Srinivasaraghavan, former MD, Sundaram Finance, and Farokh N Subedar, former COO and company secretary, Tata Sons, will assist Sharma.
The first message from Sharma was to assure employees that there will be no job losses.
The Srei group now has around only 1,000 employees left.
During its heydays till 2018, SEFL had around 3,000 employees and SIFL around 300.
Many employees left once trouble began following the IL&FS crisis that started in September 2018.
The COVID-19 pandemic accentuated problems -- with banks choking funds and then refusing to restructure loans.
NBFCs depend heavily on banks for their funding; and drying up of resources will make such entities difficult to survive.
Sharma -- who is seen as a seasoned banker by his colleagues in Bank of Baroda where he retired as a chief general manager earlier this year -- was quick to take control of the Srei group.
One of his first steps was to realign the reporting structure of business heads once the board was dissolved.
Sharma also emphasised the importance of restarting SEFL's lending operations, albeit selectively (SIFL had stopped lending some years back and focused on advisory services).
SEFL is a wholly-owned subsidiary of SIFL.
Construction and mining equipment finance was the main focus of Srei Equipment Finance, which contributed 85 per cent of the revenue.
Sharma headed the credit function of Bank of Baroda, among others.
With his vast experience in handling the lending business, it was not a surprise that he chose to restart lending activities -- critical for the revival of the NBFC.
The important aspect of any lender is collections and repayment of dues.
Sharma, after his retirement, joined the bank as an advisor for the recovery.
His experience in recovery will come in handy for the Srei group.
Clearly, the efforts are made to get Srei back into business, which is important from a valuation point of view, as bids will be invited from suitors who can take over management control.
Srei had received interest from some investors in the recent past when the earlier management -- the Kanorias -- was scouting for investors.
In July this year, Srei Equipment Finance said it has received a non-binding term sheet from Singapore's Makara Capital Partners for investment of Rs 2,200 crore (Rs 22 billion) by way of capital.
It has also received a term sheet from US-based Arena Investors LP for investment of Rs 2,000 crore (Rs 20 billion).
However, before those proposals could fructify, the RBI stepped in to take control and refer a resolution under the bankruptcy code.
The experience of the three-member advisory committee will also be of immense value with one of the member being Subramaniakumar, administrator for the Dewan Housing Finance Corporation Limited (DHFL) -- the troubled mortgage finance company -- the board of which was also superseded by the RBI, last year.
DHFL was successfully resolved under the IBC framework with Piramal group acquiring the company for Rs 34,250 crore (Rs 342.50 billion).
A lot now depends on how Srei shapes up under the new administrator and his team, which is critical for investors' interest.
Feature Presentation: Aslam Hunani/Rediff.com