Café Coffee Day's (CCD) appetite for expansion is growing by the day. Last week, India's largest coffee retailer announced that it plans to open another 100 outlets - 60 cafetarias and 45 lounges - across India by March next year, taking the total number of points of presence to 1,200.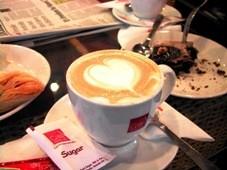 That's way ahead of competition. India now has 1,500 branded coffee outlets and CCD alone accounts for 1,090 of them.

The expansion drive would make sure that the company's unmistakable red and white logo continues to be seen even in smaller cities.

Most importantly, all the outlets will be owned by the company and there are no plans to go for the franchise route.

CCD says its expansion drive will continue as the market will explode in the near future. Per capita consumption of coffee in India is around 85 grams as compared with six kg in the US.

Also, only 170 cities out of 3,000 in the country are covered by coffee retailers. Add to this the fact that at least 100 million new coffee drinkers are estimated to emerge in India in the near future.

The entry of global players like Starbucks and Dunkin' Donuts  will only expand the consumption level which will work in favour of all retail players, says K Ramakrishnan, president (marketing), CCD.

"A retail player always has to worry about walk-ins, which is one of the basics of this industry. As long as, footfalls are maintained, business will do well," Ramakrishnan says.

But the coffee chain is now also looking beyond just a mass market presence. Reason: the average realisation per customer of CCD is much less than some of its competitors in the market space.

The retail chain explains it away by saying that it has the advantage of economies of scale - a reason why it has already attained net profit at the whole entity level.

But that may be public posturing to mask private thoughts. CCD has already moved to the next level to improve the realisation per customer.

It is increasing the presence of specified formats like Square where spends are 20 per cent more per customer, compared to the conventional outlets. Square serves single-estate brews amid plush decoration.

The other challenge is maintaining quality. "While higher number of outlets is a definite positive for CCD, maintaining quality level in all outlets is a challenge," an industry expert says.

CCD, however, dismisses this argument, saying it already has extensive training programmes to take care of this aspect.

Some other factors are also expected to work in favour of the coffee retailer like sourcing of coffee from its own estates along with long-term real estate deals, which provide a buffer against rising rentals.

"Most of our demand for coffee is met from our own estates. So, it protects us from price fluctuation in this commodity," Ramakrishnan says.

This is significant at a time when coffee prices are at a 14-year high along with rising cost of milk, sugar and other commodities.