Experts suggest that it's best to go for the bundled product that has only one-year own damage cover, reports Tinesh Bhasin.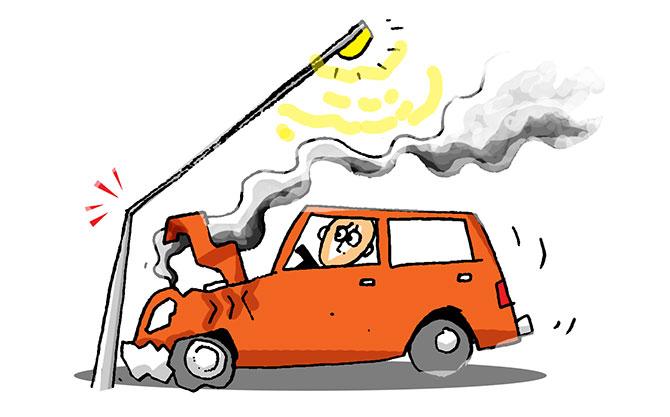 If you are buying a car or two-wheeler now, you will need to buy long-term insurance compulsorily.
After the recommendations of a Supreme Court panel, the Insurance Regulatory and Development Authority of India had directed insurers to offer three- and five-year third party liability covers for new cars and bikes, respectively.
While most insurance companies are still in the process of launching products that comply with the new rules, some have already hit the market.
Two- and four-wheeler buyers will now get three options to choose from. They can go for a third-party cover for three years, which will not cover the vehicle if its damaged.
If you want to go for own damage, you can choose a bundled product, which has one-year own damage cover and three-year third-party, or can go for a comprehensive cover for three years that covers third-party liability as well as own damage for that period.
Based on the current developments, experts suggest that among the options offered, it's best to go for the bundled product that has only one-year own damage cover.
"Regulations are still evolving around long-term auto insurance. The regulator, for example, has not yet talked about how the no-claim bonus will be passed on to the customers," says Sajja Praveen Chowdary, head-motor insurance, Policybazaar.com.
"Most insurance companies are not considering the NCBs for now," he adds. "Until there's clarity, the bundled product offering would be a better option."
If the individual does not get a no-claim bonus, the longer term comprehensive cover can turn out to be more expensive.
Bundled products make sense: When insurance policies are offered on an annual renewal, the cost of premiums would come down if the individual had no claims during the policy year.
Even when a person changes vehicles, s/he can get an NCB certificate from the insurance company and use the accumulated bonus to bring down the premiums on the new car insurance.
Since insurers had limited time to comply with the Irdai guidelines, some are not considering the NCB from the earlier policy currently. Some others are building it based on their claims experience.
"We have taken average claims that we receive in the first three years. Based on this, we have priced the NCB discounts," says Sanjay Saxena, head-motor insurance underwriting and motor claims, Bajaj Allianz General Insurance.
The NCB that a person gathers in the long-term three-year comprehensive policy will be passed to the customer on renewal depending on the year in which the claim has been made.
If the individual has a claim in the first or the second year but no claims in the third, he will be eligible for NCB only for one-year.
But if even if there is a claim in the third year, he will miss out on the NCB.
While it is a comprehensive policy, the insurers would look at claims in each year.
The claim in the third year would mean, he won't get NCB discount for the fourth year.
Another reason why bundled product makes sense is it gives the individual freedom to choose another insurer from the second year.
Chowdary points out that the insurance sold at the dealer is usually expensive. Many times dealers either lure or arm-twist buyers into taking insurance from them by offering discounts on items.
"The same policy that you buy from a dealer could be 30 to 40 per cent cheaper elsewhere," says Chowdary.
If you buy a bundled product with one-year own damage and three-year third-party liability, you will have the option to change the insurance company later.
Though there are no standalone (policy without third-party) own damage products at present, most insurance experts feel that the regulator is soon going to allow such standalone products.
A person would be able to continue the third-party cover purchased when buying the vehicle while s/he can go for own damage cover from another insurer.
A long tenure comprehensive product will also have a high upfront cost.
If you are buying a Maruti Suzuki, for example, one-year own damage with three-year third-party will cost up to Rs 24,349 or 5 per cent of the insurance declared value.
For a comprehensive three-year product, the premiums would be around Rs 50,000 or 11 per cent of the IDV.
According to law, banks cannot offer loan for insurance premiums.
Bundled*
Bundled*
Long-Term#
Four-wheeler (Maruti swift VXI)
Delhi
24,349
18,402
50,123
Mumbai
24,349
19,015
50,123
Kolkata
24,349
25,936
50,123
Chennai
24,349
21,889
56,535
Two-wheeler (Honda Activa 3G)
Delhi
4,589
-
6,621
Mumbai
4,589
4,379
6,621
Kolkata
4,589
4,379
6,621
Chennai
4,589
4,379
6,621
Insurance declared Value: Car (4,70,000), Bike(51,800)
*Bundled is 1-year own damage and 3-year third party
#Long-term (Comprehensive) is both for 3 years