In the US and Brazil, Burger King has introduced the Impossible Whopper, which tastes and sizzles like meat, but is vegetarian. But there are enough vegetarian options in India, so it will not be introducing 'meat-less' meat burgers here.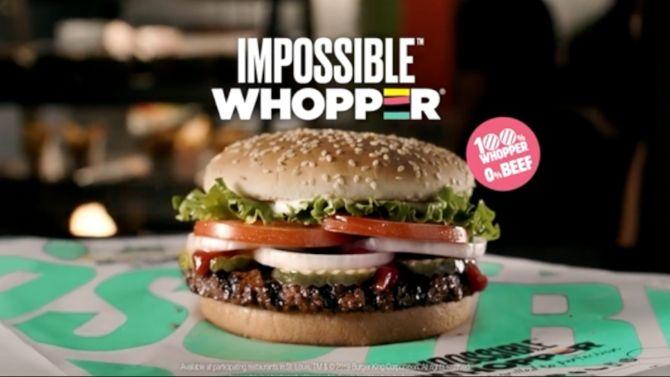 Burger King fans in India who were hoping to try the faux meat Whopper that the popular fast-food chain is introducing in the US and Brazil, will not be able to do so, since it will not be on the menu in the country.
Reason? There are enough vegetarian options in India, Burger King's management feels.
In the US and Brazil, Burger King has introduced the Impossible Whopper, which tastes and sizzles like meat, but is vegetarian.
"They don't have vegetarian products in the US. There is chicken, beef, pork and others.
"So, they have launched a burger which is vegan. This means it tastes like meat but is a vegetarian product," said Burger King India's chief executive officer Rajeev Varman.
He added, "I don't need to do that in India, where half the menu is completely vegetarian with a taste profile tested in the country and liked by Indians."
Varman said in the US, consumers found it hard to find a vegetarian product, and thus, the vegan burger was needed.
In the West, an emerging consumer base is creating demand for vegetarian and vegan products and voices are getting strong against animal slaughter.
This has prompted companies to innovate.
On the other hand, although India has a significant base of vegetarians, Varman is reluctant to get a product developed outside India.
"I have no desire to bring in a product which they (Burger King USA) have built. We only launch products in India after we test it here," he said.
In India, apart from vegetable-based patty, Burger King has also come up with a paneer (cottage cheese) variant of the burger named Paneer King Melt.
The company offers four types of regular burgers for vegetarians and five chicken ones.
There is also an egg burger for those who don't eat meat but are okay with eggs.
"I have got an array of products here built from the scratch," said Varman.
For the five-inch Whopper burgers, which are an inch larger than the regular ones, there is a vegetarian one, one with chicken and one with mutton.
One can also double the patty and add an extra slice of cheese.
As Indians are sensitive about vegetarian and non-vegetarian food, Burger King uses separate kitchens.
"There are clear vegetarian and non-vegetarian parts of the kitchen.
"The employees wear green aprons on the vegetarian side and red aprons on the non-vegetarian side.
"We have made a conscious, organised, and dedicated effort to separate the two," Varman added.
California-based Impossible Foods Inc came up with the plant-based meat patty, which is mostly soy protein, potato protein, coconut oil, sunflower oil and heme, besides other minor ingredients.
This patty is being used in the Impossible Whoppers rolled out by Burger King in the US.
In Brazil, an imitating meat patty developed by Marfrig Global Foods SA is being used and it is known as the Rebel Whopper there.
Photograph; Reuters