For internet firms, his presence matters even more than the money that he brings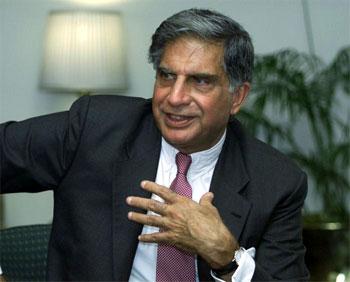 Much before his retirement in 2012, Ratan Tata had probably planned what he would do after relinquishing his boardroom post in Tata Sons. In 2009, he registered a company, RNT Associates, with only his long time lieutenant, R K Krishna Kumar, as a second director with a token share.
The firm, set up with the objective of undertaking consultancy in the field of international collaboration, mergers & acquisitions and acquiring technology, is behind Tata's recent investments in e-commerce newsmakers, Snapdeal, Bluestone, UrbanLadder and CarDekho.
RNT Associates is believed to have become active after his retirement as Tata Group chairman in December 2012 on attaining the age of 75. The new venture is what keeps him busy now along with his work as chairman of Tata trusts.
Budget 2015: Complete Coverage
"He is an entrepreneur at heart, and exploring the new face of the Internet era excites him," says Amit Jain, CEO and co-founder CarDekho, of the man who has invested in his automobiles portal. This is obviously true if you consider Tata's enthusiasm for the emerging e-commerce sector - he has made four investments in e-companies in less than a year.
The septuagenarian certainly did not make these investments in a hurry. Early last year, when he was considering a stake in e-retailer Snapdeal, he reached out to venture capital firm Kalaari Capital to understand the company. Kalaari was one of the first investors in Snapdeal.
He finally made up his mind and made the investment later that year in August. In the process, he got the opportunity to look at Kalaari's investment portfolio of over 35 companies. Subsequently, he invested in two more companies from this portfolio when he picked up minority stakes in online jewellery seller Bluestone and furniture e-store UrbanLadder.
"An investment by a legendary and respected figure like Tata is an excellent validation of our focused strategy on building a long term enterprise and marks the start of a very important phase for the company," said Kunal Bahl, founder and CEO, Snapdeal, after Tata joined his shareholders' list.
Budget 2015: Complete Coverage
Creating an impac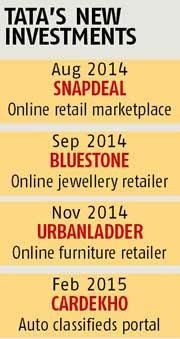 t
Analysts say that while these investments lend credibility to these firms, it also gives Tata the status of a sought-after celebrity investor for Indian e-commerce ventures. That was what made Jain of CarDekho approach him. "I reached out to him because his endorsement of our firm would mean a lot to its future success," he says.
Not that these investments are really going to change Tata's net worth. So, clearly his motivation must be other than financial. "There is a sense of discovery that he enjoys," explains Vani Kola, managing director at Kalaari Capital, who convinced Tata to take up a mentor's role for the companies now in RNT Associates' portfolio. "Also," she adds, "by helping these young entrepreneurs, he wishes to create an impact that can be very fulfilling and energising."
Most e-commerce start-ups are led by young entrepreneurs who are good at ideating as well as implementing a project. But after tasting initial success, they need to scale up their enterprises. This involves a lot of intricacies, including working with a bigger number of people and multiple offerings of products and services in different markets. Moreover, there often are regulatory uncertainties to deal with, as was apparent in the recent troubles of Uber, the online taxi-hailing service.
"Tata brings tremendous value to the table with his experience of building a large organisation," says Aashish Bhinde, head, digital and technology, at domestic investment banking firm Avendus Capital. "His mentorship role can help entrepreneurs set their priorities right when they start dealing with multiple issues."
Under Tata's leadership, software exporter Tata Consultancy Services became India's most valued company. He also played an instrumental role in the successful expansion of Titan from the watch business into jewellery. His understanding of the technology and jewellery industry is well known, and this could prove helpful in jewellery e-retailer Bluestone's future growth.
The Tata Group has now taken the cue by planning the launch of its own e-commerce venture on the marketplace model. After assessing this for some time, it has fast-tracked the project by appointing Ashutosh Pandey, former chief operating officer at the group's bookstore chain, Landmark, as its head. Sarvesh Dwivedi, who led the lifestyle division of eBay India, has also been roped in. E-commerce platforms for the group's retail ventures, Croma and Landmark, could be merged once this new projected is launched. It could put the group in competition with Snapdeal, which Ratan Tata mentors now.
Tata also joins a growing list of traditional business icons investing in e-tailers as the increasing number of Internet users is opening up new opportunities. India currently has around 243 million Internet users providing a huge bank of potential customers for online firms. Earlier, Wipro Chairman Azim Premji invested in homegrown online retailer Myntra and Snapdeal through his family office, PremjiInvest. N R Narayana Murthy, chairman emeritus of Infosys, also invested in global giant Amazon through his private investment firm, Catamaran Ventures.