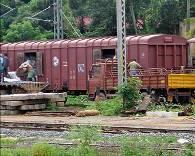 Rail stocks on Thursday fell by up to 8.6 per cent on the Bombay Stock Exchange (BSE) as cautious investors offloaded shares ahead of the Railway Budget, 2011-2012 to be presented on Friday.
Among the major rail stocks, wagon manufacturer Titagarh Wagons was the worst hit.
The counter slipped by 8.6 per cent to settle at Rs 381.65 on the Bombay Stock Exchange. Similarly, shares of Kalindi Rail Nirman witnessed a plunge of 5.96 per cent to close the day at Rs 135.
Market experts said investors preferred remaining on the sidelines ahead of the Rail Budget, adding correction in the rail stocks is a great opportunity to invest in the sector. Besides, railway equipment provider Kernex Microsystems (India) finished the day at Rs 99.55, down 4.96 per cent from its previous close.
Another major laggard was heavy equipment major Bharat Earth Movers Ltd (BEML), which dropped by 3.92 per cent to close at Rs 633.90 on the BSE.
Meanwhile, the BSE benchmark Sensex also fell sharply by 545.92 points to settle at 17,632.41 on Thursday.