It had earlier proposed cutting it down to Rs 250 crore due to slow progress in enrollment of new employees.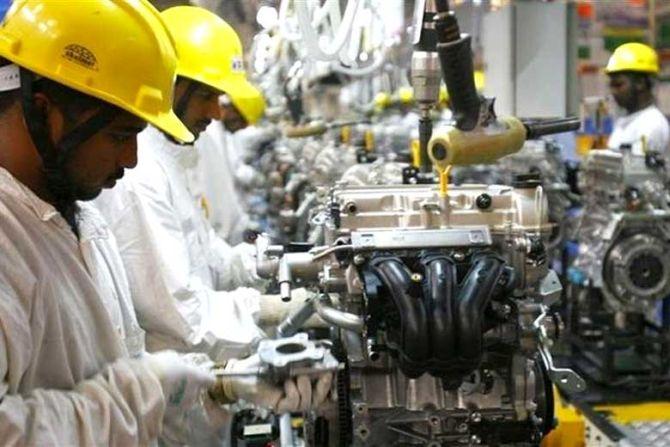 The finance ministry may likely trim budgetary support towards the Pradhan Mantri Rojgar Protsahan Yojana (PMRPY) scheme, a flagship programme for incentivising job creation, substantially for the present fiscal year in the Union Budget to be presented on Thursday.
Government sources said the finance ministry had informed the labour ministry of a reduction in the budgetary support towards the PMRPY to Rs 500 crore (Rs 5 billion) in the Revised Estimates, from Rs 1,000 crore (Rs 10 billion) allocated in the Union Budget 2017-18.
Finance Minister Arun Jaitley had announced the PMRPY in the Union Budget 2016-17 to incentivise employers for boosting employment generation. In this initiative, the government pays the employers' contribution of 8.33 per cent of wages under the Employees' Pension Scheme in the first three years of hiring a new employee.
The EPS is administered by the Employees' Provident Fund Organisation (EPFO).
At present, employers pay 12 per cent as the employee's share and 9.49 per cent as the employer's share towards various schemes under the EPFO that cover all establishments hiring at least 20 workers.
"The finance ministry has indicated that it may reduce the budgetary allocation towards the PMRPY to Rs 5 billion. It had earlier proposed cutting it down to Rs 250 crore (Rs 2.5 billion) due to slow progress in enrollment of new employees," a labour ministry official said on the condition of anonymity.
The official, however, added that the scheme had witnessed an uptick towards the end of 2017.
"We may require around Rs 7 billion for 2017-18. For the next fiscal year, we have demanded Rs 12 billion towards the scheme from the finance ministry," the official added.
Till December, the EPFO had received Rs 200 crore (Rs 2 billion) from the budgetary allocation to the PMRPY.
The EPFO recently wrote a letter to the labour ministry demanding an additional Rs 5 billion, taking the total requirement to Rs 700 crore (Rs 7 billion) for 2017-18.
Till July last year, 361,024 employees belonging to around 9,000 establishments had availed the benefits of the PMPRY from the government for 2016-17.
"The scheme picked up after July last year as it took some time to spread awareness among the employers about the contours of the scheme," another official said, adding some changes had been introduced in the scheme's guidelines to incentivise more employers to avail the benefits.
According to official figures, 1.8 million new employees from 28,661 establishments have availed benefits of the PMPRY scheme in August-December last year.
Pradhan Mantri Rojgar Protsahan Yojana
Scheme to incentivise employers to hire more workers
Govt reimburses 8.33% contribution of employers towards Employees' Pension Scheme for first 3 years of every new worker employed
Scheme applicable to workers with salary up to Rs 15,000 per month
Scheme was announced in Union Budget 2016-17 and notified in August 2016
Photograph: Reuters