The government's austerity drive was reflected in the Economic Survey document too - its pages were reduced considerably, saving Rs 15 lakh (Rs 1.5 million) to the exchequer.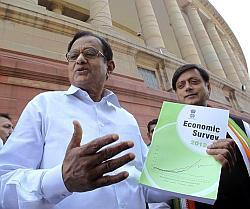 "We have curtailed 60 pages. Rough calculation we have saved about Rs 15 lakh. Every expenditure has to be examined very carefully to see if we need it," Chief Economic Advisor to Finance Ministry Raghuram G Rajan said.

The Economic Survey 2012-13 has as many as 424 pages against 484 pages in the last year's Survey, shorter by 60 pages.

Although the cost cut is symbolic, it needs to be seen as part of the Finance Ministry's drive to cut down on wasteful expenditure and contain fiscal deficit to 5.3 per cent of the GDP.

The Ministry had earlier asked all department to cut down on wasteful expenditure like holding seminars at five-star
hotels.
It announced a 10 per cent cut in non-plan expenditure in the current fiscal as part of austerity measures aimed at containing its rising fiscal deficit.
The directive from the Expenditure Department to all Ministries and Department also imposed curbs on foreign travel.
It also directed that the size of delegations and the duration of visits be kept to "absolute minimum".