India is passing through difficult phase but a turnaround is round the corner with over 6 per cent growth likely next fiscal on the back of initiatives taken by the government to improve investors sentiments, said Chief Economic Advisor Raghuram G Rajan.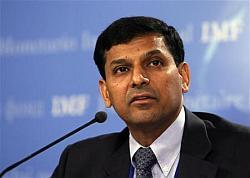 "There is a glimmer of turn around. The conditions are in place for turnaround in economy as we do not expect a global headwind like last year...but much of it we have to do domestically," he told a press conference in New Delhi.

The Economic Survey 2012-13, prepared by a group of economist led by Rajan and tabled in Parliament on Wednesday, has projected a higher growth of 6.1-6.7 per cent in the next fiscal beginning April 1.

Asked about the wide band in the growth projection, he said "we are at the turning point and it is very difficult to predict growth at this point."

The wide range in growth projection is because of wide uncertainty in the global economy, he added.

The economy is expected to clock a growth rate of 5 per cent during the current fiscal.

"What we need to do is turn around investments, turn around governments' saving and increase household savings," he said while emphasising that the Indian economy is at the turning point,

This will bring down inflation which will give more room to RBI for easing monetary policy to promote growth, he said.

"Going forward, credible budgetary plans for fiscal consolidation,
along with augmented agriculture production should lead to lower inflation and give the RBI room to reduce policy rates," he said.
To boost investors confidence, the government has taken a host of reform initiatives including partial deregulation of diesel prices, opening up of FDI in multi-brand retail and liberalising foreign investment norms for various sectors including aviation.
Talking about impediments to growth, Rajan said there might be some downside risks including investment slow down.
"Investors sentiments are very hard to pick up. We think sentiment are building up. Sentiment is one of the risk," he said.
"The other risk that we worry more of is the external risk and it has to do with geopolitical risk," he said.
He said though India is in difficult situation, but it is not impossible to come out of it.
Rajan said a high fiscal deficit, falling investments, falling savings, a high current account deficit and high consumer price inflation, all suggests the urgent steps need to be taken for macroeconomic stabilisation.
Image
: Chief Economic Adviser Raghuram Rajan