Finance Minister Nirmala Sitharaman will present the much-awaited 2022-23 Union Budget on February 1.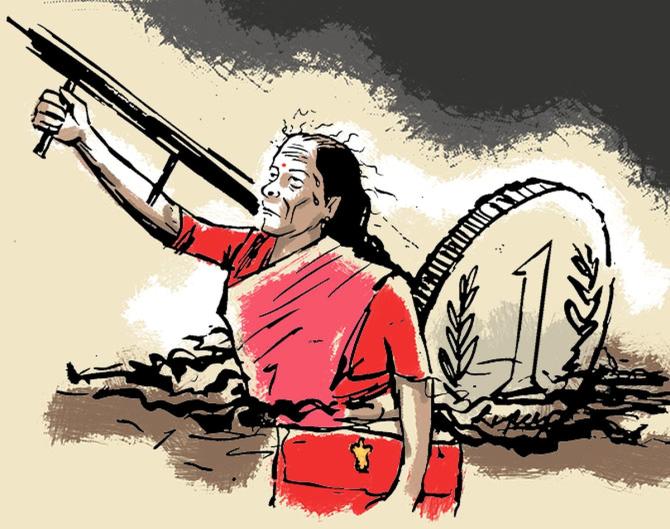 While there has been strong recovery in some sectors, touch services like hospitality, tourism and leisure continue to suffer after two Covid-19 waves.
Household savings have been hit due to increased spending on health care.
Consumption has still not reached pre-pandemic levels.
Navigating this reality and ensuring the Budget addresses these concerns is a job entrusted with a core team:
Nirmala Sitharaman
As she prepares to present her fourth Budget, there could be moments when she must have wished she had the luck of some of her predecessors, especially Arun Jaitley, whose tenure coincided with largely benign global and domestic macroeconomic conditions.
Sitharaman was the face of the government's economic respo­nse to the pandemic, announcing the Garib Kalyan and Aatm­a­nirbhar Bharat programmes.
In her 2021-22 Budget, she turned on the spending tap as higher public investment in infrastructure (infra) became the government's main plank for economic revival.
One can expect more of the same in the upcoming Budget as fiscal concerns have been kept aside for the second year running.
T V Somanathan
By convention, the seniormost of the five secretaries in the finance ministry is designated as finance secretary, and currently that is Somanathan who heads the expenditure department.
Considered one of the most influential bureaucrats in the government, Somanathan has worked in the Prime Minister's Office (PMO) from April 2015 to August 2017, and is known to have the ears of Prime Minister Narendra Modi.
Somanathan is a popular bureaucrat among colleagues, but his role isn't.
He has enforced expenditure cuts in a number of departments, except the ones directly involved in battling the pandemic, even as his department has had to find money for the stimulus annou­nce­ments made by Sitharaman.
The February 1 Budget will be the biggest on record, especially in terms of capital expenditure, and it will be Somanathan's job to figure out how the money will be spent.
Tarun Bajaj
The revenue secretary is another PMO 'alumnus', having worked there for five years before moving to North Block in April 2020 as economic affairs secretary, a month into the lockdown.
He was instrumental in helping shape Aatmanirbhar Bharat.
In April 2021, he was given charge of the revenue department.
Under his tenure, direct and indirect tax revenues have come in much higher than budgeted.
Bajaj's aim will be to ensure this trend continues next year and that the tax targets are realistic.
He is also known to be a 'consensus' man, working behind-the-scenes to ensure that discussions between the Centre and states in the Goods and Services Tax Council go smoothly.
Bajaj has drafted 'Part B' of Sitharaman's upcoming Budget speech.
Ajay Seth
A rather publicity-shy bureaucrat, Seth was the managing director of Bangalore Metro before being brought in as economic affairs secretary in April 2021.
His earlier stint in the central government was also in the finance ministry as joint secretary, Budget.
The Budget division, which puts together all inputs and prepares the Budget, reports to him and Seth is expected to draft most of Sitharaman's Budget speech, along with Somanathan.
Seth's department is also the nodal department for capital market, investment, and infra-related policies, including the ambitious National Infrastructure Pipeline.
This is the blueprint for the Centre's planned public spending push, as it looks to pump money into large infra projects with the aim of reviving activity and creating jobs.
Tuhin Kanta Pandey
2021-22 will be another year when the Centre's divestment plans could fall short of the budgeted target.
However, Pandey, who heads the Department of Investment and Public Asset Management (DIPAM), can be satisfied with the fact that Air India's sale finally reached its conclusion under his tenure.
DIPAM is now racing against time to ensure that the market debut of public-sector behemoth Life Insurance Corporation of India is also completed before March 31.
In the coming year, DIPAM and Pandey's challenge will be to complete pending privatisation plans, including Bharat Petroleum Corporation, Container Corporation of India, Shipping Corporation of India, Central Electronics, Neelachal Ispat Nigam, Pawan Hans, two state-owned banks, and one insurer.
Debashish Panda
Panda heads the Department of Financial Services. All the financial sector-related announcements expected in the Budget are his responsibility, including any further plans of recapitalisation.
The banks have weathered the pandemic better than many other sectors but will need to step up their response.
The recent data by the Reserve Bank of India (RBI) shows that private sector banks have disbursed more loans under the Emergency Credit Line Guarantee Scheme and various loan schemes, compared to public sector banks.
Initial fears about higher defaults due to loss of economic activity have come to pass, but the banks are not out of the woods yet.
Panda will have to work closely with the RBI to ensure the stability of the financial system.