It is also likely to assume a deflator of around 4 per cent. That could take the nominal GDP outlook for FY21 to around 10 per cent.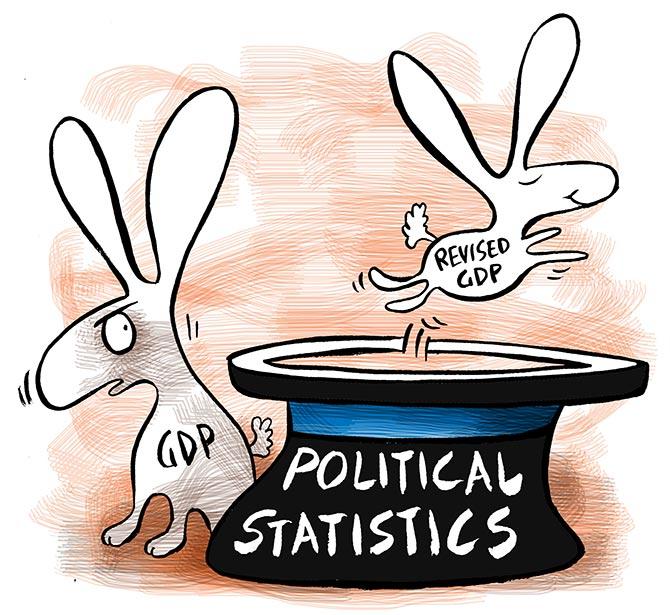 As it prepares the 2020-21 (FY21) Union Budget, the government may assume a growth rate of 6-6.5 per cent in real gross domestic product (GDP) for the next fiscal year.
It is also likely to assume a deflator of around 4 per cent.
That could take the nominal GDP outlook for FY21 to around 10 per cent.
It is this nominal GDP forecast on the basis of which the finance ministry is calculating key Budget targets like the fiscal deficit as a percentage of GDP and tax revenue growth for the coming year.
The upcoming Budget is crucial for Prime Minister Narendra Modi and Union Finance Minister Nirmala Sitharaman as the government looks for ways to reverse a deep slowdown across sectors and hopes to gain back the narrative after a series of rollbacks following the 2019-20 (FY20) Budget.
"We are looking at 6-6.5 per cent next year.
"The signs of a recovery are there, and indicators will be better next year because of an expected rebound in demand as well as the low base effect from this year," said a senior official aware of deliberations surrounding the Budget preparation.
The official conceded that the upper limit of that range was the best-case scenario unless the global economy recovered steeply.
It should be remembered that the finance ministry's official estimates of real GDP growth are given by the Economic Survey usually as a range, while nominal GDP growth is usually given as a single number in Budget at a Glance.
However, in the 2018-19 Economic Survey, chief economic advisor Krishnamurthy Subramanian had given a single number.
He had forecast real GDP growth of around 7 per cent for FY20.
The Union Budget FY20 was assuming nominal GDP growth of 12 per cent.
The forecasts proved to be too optimistic and rather unrealistic. With the January-March quarter remaining, the assessment for FY20 is more sober.
The Reserve Bank of India (RBI) now sees real GDP growth for the year at 5 per cent, compared to 6.1 per cent earlier. While publicly the finance ministry hasn't given any Revised Estimate, officials say it is in line with that of the RBI.
"We take what the RBI projects. Now we are also internally forecasting 5 per cent GDP growth," said a second official.
Real GDP growth for the July-September quarter came in at a 26-quarter low of 4.5 per cent, while nominal GDP growth was a measly 6 per cent.
For October-March 2019-20, the RBI is now projecting real GDP growth in the 4.9-5.5 per cent range, while for the first half of the next fiscal year (April-September FY21), it sees GDP growth of 5.9-6.3 per cent.
The central bank has also revised its consumer price index-based inflation (CPI) projections upwards.
It is now forecasting CPI inflation of 5.1-4.7 per cent for the second half of FY20 and 4-3.8 per cent for the first half of FY21.
Higher inflation means a higher deflator.
The GDP deflator is sometimes considered a better measure of inflation than retail or wholesale inflation.
It is the ratio of the value of goods and services an economy produces in a particular year at current prices to that of prices that prevailed during the base year.
This ratio helps show the extent to which the increase in GDP has happened on account of higher prices rather than increase in output.