Even as the government's move to hike import duties on 45 items is seen as a sign of protectionism, the prime minister was himself involved in the process.
Illustration: Dominic Xavier/Rediff.com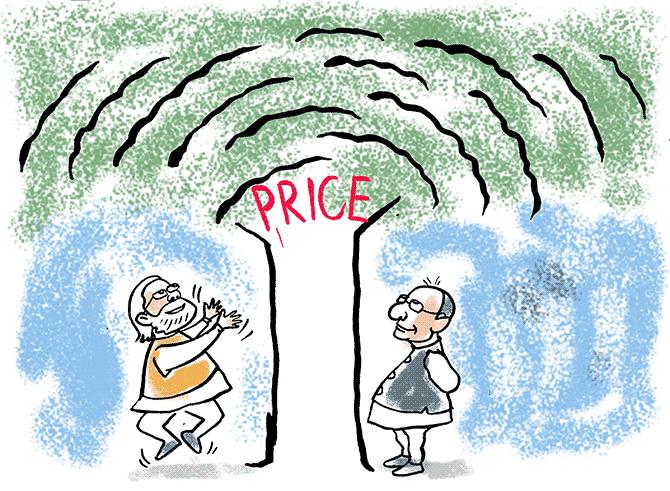 Cupertino-based Apple may have been at the centre of the narrative for hiking import duties on a slew of items in the Budget for 2018-19.
For the second time in two months, Finance Minister Arun Jaitley announced an increase in the customs duty on mobile phones - to 20 per cent from 15 per cent after raising it from 10 per cent earlier.
It took several rounds of convincing by the revenue department for Prime Minister Narendra Modi to approve the customs duty hike on each of the 45 items announced in the Budget for 2018-19.
"Apple was a key aspect of our discussions for the customs duty hike. With all the import that is taking place, we thought of making it high-cost so that it is encouraged to set up manufacturing in the country," an official said.
The duty on smart watches and wearable devices was doubled to 20 per cent.
Manufacturing giant Foxconn has been in talks with the government for the past four years to manufacture Apple's iPhone in India.
The Foxconn Group has factories in Chennai and Sri City, where it manufactures mobile handsets for Xiaomi, Gionee, and Oppo.
Apple is keen to set up its own retail stores in the country, but wants a dilution in the 30 per cent local sourcing norm for the single-brand foreign direct investment (FDI).
The government had last month liberalised FDI policy, making entry "automatic" for stakes beyond 49 per cent.
When contacted, Vanaja N Sarna, chairperson, Central Board of Excise and Customs, told Business Standard the hike in duty on mobile handsets was done with an objective to correct the inverted duty structure, in which import duties on finished products are lower than those on intermediates.
"Brands like Apple will also be encouraged to set up manufacturing bases in India now. It is desirable that companies come in and make in India. All this is going to provide employment," she said.
The move will also help narrow the trade deficit with China, which has widened from $39 billion in 2012-13 to $51 billion in 2016-17 as it will discourage imports of mobile handsets and other items from that country.
China's share in India's total imports has risen from 10.6 per cent in 2012-13 to 16 per cent in 2016-17.
China accounts for almost 99 per cent of mobile handsets imports into India.
Mobile handsets make up for 1 per cent of India's imports in value terms, according to data from the department of commerce.
Prime minister's approval was key
Even as the government's move to hike import duties on 45 items is seen as a sign of protectionism, the prime minister was himself involved in the process.
"The prime minister had to be convinced about each item where the duty was being altered. A very strong case was put up for him to approve," said another official.
Sarna said the rates had been increased in a calibrated manner so that it would become difficult for cheaper imports to replace locally manufactured handsets.
"For example, some companies are making juices in India. We should promote such companies to increase production in India and pave the way for more such companies to enter manufacturing," Sarna added.
The customs duty on cranberry juice was hiked by five times to 50 per cent.
The duty on orange juice has been raised to 35 per cent from 30 per cent, while that on all other fruit and vegetable juices is now at 50 per cent, up from 30 per cent.
"It is the rich who buy imported cranberry juice for cocktails and cakes. Companies like Dabur are making juices in India and we should promote them," the official said.
A push to micro industry
The duty on kites and numbering stamps was doubled to 20 per cent.
The levy on candles saw a steep hike to 25 per cent from 10 per cent.
"We have tried to cater to the micro industry among the MSMEs in particular. Women in villages can make candles and kites," said the official.
Besides, why should one buy Chinese kites, he added.
Another official pointed out that the NGOs should pitch in and set up training centres for some items where customs duty had seen an increase and which could be easily made in India without much skills.
"Overseas, they sell simple candles with fragrance from jasmine oil that is imported from India. Why can we not do that on our own?" he added.