'The Budget has maintained fiscal prudence while announcing a number of steps to boost growth, particularly in infrastructure and rural sectors.'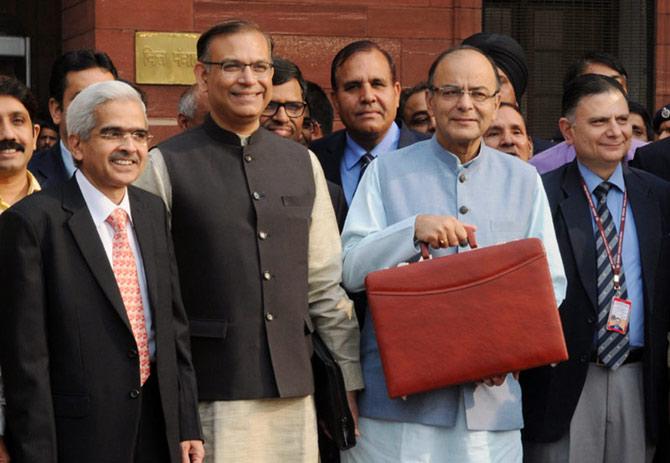 Image: Finance Minister Arun Jaitley is pursuing the path of fiscal consolidation. Photograph, courtesy: Press Information Bureau
Kumar Mangalam Birla
Chairman, Aditya Birla Group
It was good to see the finance minister stick to the deficit reduction trajectory, yet deliver a Budget squarely focused on inclusive growth with employment generation.

It made a bold financial commitment for the infrastructure sectors, especially transport. There is much-needed focus on the farm sector, with a goal to double incomes in the next six years.

The fiscal prudence reflected in the Budget should reassure investors about India's macroeconomic stability in a globally turbulent environment.

The move to provide a statutory backing to Aadhaar is welcome. One sees the effort to break down some of the roadblocks that have snagged the economy in the last few years, such as stalled PPP projects, NPAs and pending tax litigations.

These should help India overcome legacy issues and take a big leap forward.
Adi Godrej
Chairman, Godrej Group
Finance Minister Arun Jaitley's 2016-17 Union Budget was a balanced one.

The good points were containing the fiscal deficit at 3.5 per cent of the GDP (gross domestic product) next year and sticking to the 3.9 per cent target this year.

It could lead to a reduction in interest rates by the Reserve Bank of India soon. The agricultural reforms suggested are good and will help the rural economy.
The rural electrification reforms as well as provisions for the social sector and real-estate sector are good moves.

Allowing shops to be open on all seven days of the week is also a good move. It will lead to higher growth.

On the downside, the increase in tax on dividend distribution is a negative.

Higher rates of taxation in India have never been effective. It doesn't lead to more investment or growth.
Arundhati Bhattacharya
Chairman, SBI
As per the market anticipation, the focus of the Budget was on agriculture and job creation with revival of rural demand, agriculture productivity and farmers' welfare.

It mentioned recapitalisation of banks to the tune of Rs 25,000 crore for this fiscal.

The proposed code on resolution along with the bankruptcy code will strengthen banks towards better and fast recovery mechanism.

The creation of a legislation to curb the illicit deposit-taking schemes will also ensure a level playing field for bank deposits.
The Budget also underlined a specific focus on the social sector, that is education and health care.

The new health insurance scheme and tax rebate for senior citizens for the pension scheme will provide relief in a country that has no comprehensive social security in place.
Chanda Kochhar
MD & CEO, ICICI Bank
The Budget has maintained fiscal prudence while announcing a number of steps to boost growth, particularly in infrastructure and rural sectors.
Adhering to fiscal consolidation and committing to the target of 3.5 per cent of the GDP in fiscal 2017 in this challenging global environment is commendable.

There is a strong focus on boosting growth with emphasis on strengthening the rural economy and development of social and physical infrastructure.
It has also envisaged key institutional changes like providing a legal framework for dispute resolution, and re-negotiation of PPP agreements and public utility contracts are essential steps to encourage private sector investment in key sectors.

Considerable attention has been devoted to taking forward the government's vision of a stable and predictable tax regime.
Pawan Munjal
CMD, Hero MotoCorp
What impressed me the most in this Budget is the strategic intent of the finance minister.

Keeping fiscal deficit at 3.5 per cent is a bold move, considering the strong headwinds, both globally and at home.

With this, we expect the RBI to realign the monetary policy and lower interest rates to boost the manufacturing sector and bring in fresh investments.
Through Budget 2016-17, the government has continued with its strong intent of shifting away from dole economics.

The focus now is on empowering the poor, rather than subsidising them.
The focus on infrastructure, education, healthcare and the social sector with enhanced allocation including MNREGS will go a long way in boosting the economy, especially at a time when urban India's capacity to create blue-collar jobs has been impeded.
Gautam Adani
Chairman, Adani Group
The finance minister has diligently achieved revenue targets and has, in fact, collected more.

There is no compromise on planned expenditure which shows this government's commitment to development.
A major thrust on the rural economy with increase of 200 per cent-plus allocation to states and panchayats will bring sustainable rural growth. Enhanced allocation to MNREGS will ensure its drive towards poverty alleviation.
The Pradhan Mantri Gram Sadak Yojna plus a major push for roads and rail will ensure better connectivity for movement of agro-products and in turn superior realisation for farm produce.
The focus on improved infrastructure through network of roads, rail, ports and airports will provide impetus for enhanced growth and, in turn, generate employment.
Sanjay Nayar
CEO, KKR India
The 2016 Budget displays a practical outlook. It has attempted to reset the vision to curb fiscal deficit and improve investor sentiment.

There is a clear focus on empowering Asset Reconstruction Companies and recapitalisation of public sector banks that will catalyse a solution for stressed assets.

This will provide sufficient working capital to projects that have potential but are stalled.
Also, scrapping of dividend distribution tax on REITs will not only help developers raise funds but also make investment.

A significant thrust on the development of the rural economy, social reforms and infrastructure is aimed at driving growth while reviving domestic demand.

This could have a long-term multiplier effect on investments and consumption.

Fairly positive in its approach, the government has committed to mid-term consolidation.
Kiran Mazumdar Shaw
CMD, Biocon
Budget 2016 can be described as a "people's Budget" that will spur inclusive economic growth through steps that will drive rural development, farmers' welfare and relieve agricultural stress.

But it hasn't been innovative in reviving flagging investment sentiment in the manufacturing sector, where the real job creation happens.

While it has proposed a lower corporate tax of 25 per cent for new units, it stops short of reforms that would attract big-ticket investments.
In healthcare allocation, some new schemes like the New Health Protection Scheme and National Dialysis Services programme are drops in the ocean.

On a positive note, it has introduced a "Patent Box regime" that allows a flat tax rate of 10 per cent on the income generated from patents developed in India.

This is a good step and will hopefully boost innovation in the country.
Rohit Bansal
Co-founder, Snapdeal
While the Budget did not have any headline-grabbing announcements, it set out the country on a path of innovation-led, substainable and inclusive growth.
The continued commitment to improve ease of doing business in India along with fostering a conducive environment for research and development is a very positive outcome.

Relaxation of taxation on income from patents and direction of funds towards building world-class higher educational institutions will drive innovation.

The e-commerce industry will also benefit from the increased investments in infrastructure and digital literacy in rural areas.

Easy credit to SMEs will enable more entrepreneurs to leverage technology and expand markets.

We hope this is backed by passage of the GST Bill during the current Parliament session.
Ridham Desai
MD, Morgan Stanley India
The Finance Minister has chosen macro stability over growth and is pursuing the path of fiscal consolidation.

Arguably, India's focus on macro stability is responsible for most of its 60 per cent stock market outperformance over emerging markets since September 2013.
His revenue assumptions appear realistic and the government has continued to keep expenditure under the lid.

He seems on course to meet fiscal target for a third year running, a welcome change.

A much-needed boost has been given to the rural economy and infrastructure spending is up 31 per cent.
The lack of a bigger provision for state-run banks, the hike in tax on dividends, a 0.5 per cent levy on services and lack of a corporate tax rate cut seem like the negatives.

But the market appears to have support from poor sentiment and reasonable absolute valuations.
Anil Agarwal
Group Chairman, Vedanta Resources Plc
The Budget, as expected, has continued the push for economic growth and catering to the needs in education, skill development, health and education.
The government's move to increase outlays for the rural sector and, in particular, the agricultural sector would help revive the rural economy and, hence, boost demand.

The health insurance scheme for hospitalisation expenditure and subsidy on cooking gas connections for poor families will positively influence the lives of the economically weaker sections.
Navodaya Vidyalayas and creation of a higher education financing agency are also directionally well placed for improving the affordability of education.

The focus on creation of more roads, highways and railway infrastructure will boost the Make in India programme.

Further, setting up of 1,500 multi-skill training institutes will help India reap its demographic dividend and spur economic growth.

Given the need to create an enabling environment for business and investments, the Budget extends tax incentives for start-ups and small & medium enterprises.

Numerous enabling provisions that incentivise value addition through domestic production will go a long way in realising the Make in India vision.