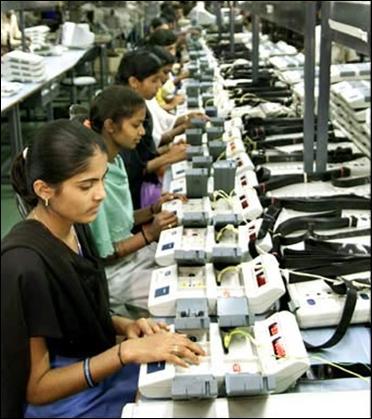 The Economic Survey has also expressed concerns at the reported low rates of workforce participation for females.
India needs to create a large number of formal sector jobs and deal with regulatory issues that force firms to opt for contract workers because of slow labour reforms, Economic Survey said on Friday.
The pre-Budget document also suggested that formal sector workers should be given a choice of not investing in social security schemes run by retirement fund body Employees Provident Fund Organisation as it would reduce the cost of hiring and incentivise more people into formality (formal sector jobs).
"The employer's 12 per cent contribution to EPF/EPS would be unaffected.
"The only difference would be that employees could choose whether or not to save 12 per cent of their salary into EPF or keep it as take home pay," it said.
"Such a change would effectively reduce the tax on formal sector labour while leaving informal sector labour costs unchanged.
"In a relative sense, it would, therefore, reduce the cost of hiring workers in the formal sector and incentivise more people into formality, where productivity levels and growth are higher," it added.
The Survey also suggested that India's most pressing labour market challenge going forward will be to generate a large number of good jobs which tend to be in formal sector.
However, it said: "Two obstacles to formal sector job creation are regulation-induced taxes on formal workers (like EPF contributions) and spatial mismatch between workers and jobs."
It stated that encouragingly, firms and workers are finding solutions to deal with these obstacles that are even more varied than the obstacles themselves.
According to it, the slow pace of labour reform has encouraged firms to resort to other strategies to negotiate the 'regulatory cholesterol'.
One popular strategy is to hire contract workers, which has two key benefits.
Firstly, the firm essentially subcontracts the work following regulations and 'managing' inspectors to the contract labour firm.
Secondly, it said, because contract workers are the employees of the contractor and are not considered workmen in the firm, the firm stays small enough to be exempt from some labour law.
Contract workers increased from 12 per cent of all registered manufacturing workers in 1999 to over 25 per cent in 2010.
The document also pointed out that several states, such as Rajasthan, have responded by amending their labour laws with the goal of attracting large employers and high growth industries to their state, and other states like Gujarat and Maharashtra are considering steps in this direction.
It said that with private investment lagging, states are under pressure to be seen as attractive destinations for investments that will create jobs and boost economic growth.
The Economic Survey has also expressed concerns at the reported low rates of workforce participation for females.
"The level of financial inclusion of women in terms of number of women with bank accounts still remains low in India.
"However, it is noteworthy that there are women achievers in the financial sector, with leading nationalised banks and financial institutions headed by women," it said.
The Fourth Annual Employment-Unemployment Survey conducted by the Labour Bureau during the period January 2014 to July 2014 has shown that the Labour Force Participation Rate is 52.5 per cent for all persons.
However, LFPR for rural areas stands at 54.7 per cent which is much greater than that for rural areas at 47.2 per cent.
It noted that the LFPR for women is significantly lower than that for males in both rural and urban areas.
The unemployment rate is 4.7 per cent in rural areas and 5.5 per cent in urban areas. The total unemployment rate reported is 4.9 per cent as per the Labour Bureau Survey.
These figures are much higher than the all India unemployment rates of the National Sample Survey Office (NSSO, 2012-11) which reported unemployment rate of 2.3 per cent for rural areas, 3.8 per cent for Urban Areas and 2.7 per cent for
India as a whole, it noted.
The document stated that the Time Use Survey being conducted in select states on a pilot basis has revealed the hidden contribution of women to the economy in the form of unpaid work.
TUS is proposed to be extended to all states to design gender sensitive policies for employment and to make women's work visible, says the Survey.
The Survey has stressed that India, midway through its demographic dividend, is providing an economic growth in terms of the working age share of the population.
Hence, to exploit this dividend and meet the growing aspiration of those entering the labour force, India's Economy needs to create enough 'good jobs' -- jobs that are safe and pay well, and encourage firms and workers to improve skills and productivity, it said.
It may be noted that of the 10.5 million new jobs created between 1989 and 2010, only 3.7 million-about 35 per cent -- were in the formal sector.
In this period total establishments were increased by 4.2 million.
However jobs informal sector have come down possibly because of increased use of contract labour.
Thus, the challenge of creating the good jobs of India could be seen as a challenge of creating more formal sector jobs which also guarantee workers protection, it has said.
"To boost economy the centre has to ensure that labour regulation is worker-centric, by expanding workers choice and reducing mandatory taxes on formal sector employment," it said.
The image is used for representational purpose only