The loss in Bihar has forced a change in NDA's market positioning, says Shekhar Gupta.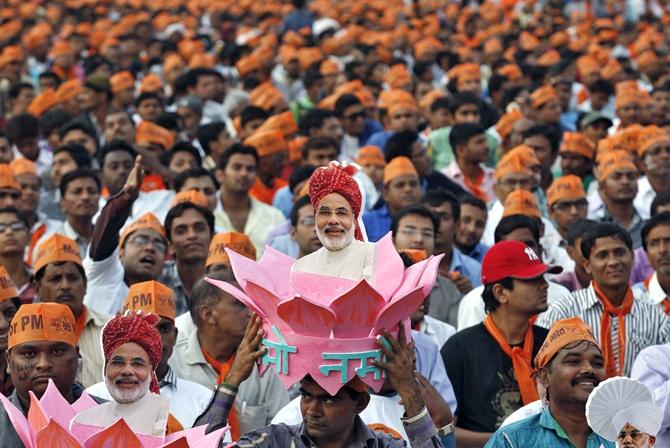 Image: Modi's isn't a "minimum government, maximum governance" approach. Photograph: Reuters
The Narendra Modi government's third Budget confirms that he is a reformer of government and not a liberaliser of economy.

The most significant positive aspects of this Budget, for example, all lie in improving government processes.
The most important of these are tax administration, reduction in taxman's discretionary powers and reduction of both the extent and the duration of tax litigation.

There is more money for physical infrastructure, but it will still go through a government pipeline.

Reform of government processes includes a whole-hearted embracing of Aadhaar, direct benefit transfer of more subsidies, including, bravely, on fertilisers and some moves on non-merit subsidies and giveaways.

A significant reduction in full tax exemption on provident fund withdrawals is a reform that needed serious courage to undertake, although we are not sure yet if it will survive Parliament.

Modi's isn't a "minimum government, maximum governance" approach. It is more government, but better governance.

There is no real relaxation for foreign direct investment in newer sectors or an increase in ceilings, except in agro-processing. For all the rest, you come to us and we, the sarkar, know best.

On genuine privatisation, there isn't even a trial balloon. There is talk of strategic sale, but that is confined to public sector undertakings (PSUs) selling their physical assets such as land.

In the government system, this is easier said than done, since asset sales are messy and scam-prone. But again, Modi thinks he can reform his government sufficiently for it to have the credibility to do this.

The change in the name of the disinvestment ministry to investment ministry is more than cosmetic. It fully sets the clock back on the Vajpayee-Shourie idea and pleases the Rashtriya Swayamsevak Sangh (RSS)/swadeshi ideologues.

The tone of the speech and the detail also show a reformer in retreat. The loss in Bihar has forced a change in the National Democratic Aliance's market positioning.

Until last year, the prime minister was saying that the Mahatma Gandhi National Rural Employment Guarantee scheme was an acknowledgement of the state's failure to create productive jobs and, therefore, a shame.

He was right to say so and this promised a more reformist, entrepreneurial and non-povertarian outlook.

This Budget speech, on the contrary, boasts of the highest-ever allocation to it.

The Budget is also the most important annual statement of a government's intent on political economy. In those terms, it is a statement of a hard swing to old Congress-style agro-povertarianism.

Parts of the Budget speech, particularly in the first half, could have come in a Budget speech from late Chaudhary Charan Singh. This is a political acknowledgement of rural distress and decline in wages.

This has panicked the government into making what sounds like an impossible promise of doubling farmers' incomes by 2022.

Growth like that is unheard of in farming, particularly as the talk, even in this Budget, is more of organic farming than of new technologies, particularly in seeds.

Farmers' incomes cannot start growing at 15 per cent annually compounded in any case, and definitely not if your policies obsess over the fetishes of the RSS than embrace modern science.

But that reckoning is still six years away. A change in emphasis now is probably a good political palliative - or the only plausible one.

The three areas of widely acknowledged good news — highways, power and railways — are the Modi government's chosen engines of growth and investment.

Each is led by a hard-working, modern, performance-oriented minister.

The lesson, therefore, is simple. Even if you want to only improve the government and not minimise its role, you can need top-quality ministers.

That this council has so few of them is a big cause for concern. The most important lesson of 21 months in power is that India is more complex than Gujarat, which a brilliant chief minister could carry just on his own shoulders.

India needs a larger team, and ministries like agriculture, rural development, health and, indeed, human resources development also need firing. Does Modi accept that?

The Budget can't tell us. Wait for the Cabinet reshuffle, if there is one.