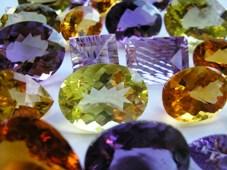 The gems and jewellery sector is not only a major employment generator but also make a major contribution to India's export earnings.

As per the White Paper issued by FICCI Gems & Jewellery Group -- the total size of the Gems & Jewellery Sector (both domestic and exports) was about Rs 4,15,000 crore (Rs 4,150 billion).

The significant increase in growth of the export sector has been primarily because of a strong domestic consumption base and pragmatic government policies.

With increasing competition from China, the government should encourage the development and promotion of BRANDED Jewellery in the International market, for the long-term sustainable growth of the Gems & Jewellery Sector.

The levy of Excise Duty on Jewellery should not only be immediately abolished but an 'Indian Brands' promotion corpus should be made available to promote Indian Jewellery Brands in the International Market.

Further, gold jewellery is also a form of savings and investments specially for the rural population and levying an Excise Duty on Savings is not
appropriate.
The government has recently increased the customs duty on polished diamond imports, however with this introduction, the government should also allow duty free imports of cut and polished diamonds in private bonded warehouse so that the Trades efforts to shift part of the diamond trading business form Belgium, Israel and Dubai is encouraged.
The government should provide a boost to the development of the modern, organised segment of the Indian jewellery industry by implementing the following measures:
Abolish Excise Duty on Jewellery
Create a 'Indian Brand' development fund to promote exports  
Ensure that VAT is capped at 1 per cent under the GST regime
Allow duty free imports of cut and polished diamonds in Bonded Warehouse for value add and re-export
The writer is chief executive officer-cum-managing director , Gitanjali Group