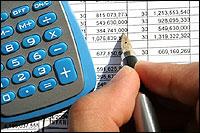 Care Ratings conducted a survey on expectations from Union Budget 2012-13 with regards to its orientation, strategy, provisions and reform initiatives.  About 50 respondents from across banks, financial institutions and intermediaries including brokerage firms, corporate bodies, consulting firms, research institutes and industry bodies participated in the survey. 
Based on the survey, Care ratings indicated that the majority opinion on Union Budget 2012-13 is that it
1. may not be populist.
2. will be growth oriented.
3. will look at fiscal consolidation with fiscal deficit ratio of less than 5% of GDP.
4. will probably focus more on infrastructure spending and less on social spending.
5. may not give significant tax benefits for the manufacturing sector.
6. could have some reforms in the areas of FDI, pensions, insurance and food security (however, less than 50% for each of them).