Budget Provisions
• Excise duties on paper and paperboard (P&B) and pulp have been increased by 1 per cent.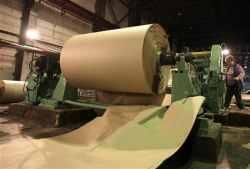 • Imposed an excise duty of 6 per cent on wastepaper

• Waste paper is being fully exempted from basic customs duty.

• Full exemption on customs duty on coal. CVD is also being reduced from 5 per cent to 1 per cent on such coal

• For 2012-13, Rs 25555 crore provided for RTE-SSA representing an increase of 22 per cent.

• Rs 3,124 crore provided for Rashtriya Madhyamik Shiksha Abhiyan (RMSA) representing an increase of 29 per cent.

Industry Expectation

• Industry wants removal of customs duty on coal.

• To retain the peak rate of Basic Custom Duty at 10 per cent at the current level on paper/paperboards and also to re-introduce the component of SAD.

• The customs duty on import of fiber viz: wood logs/ wood chips and all types of wood pulp/waste paper should be pegged at zero percent

• The excise duty on Paper and Paper Board was increased from 4 per cent advalorem to 5 per cent in Budget 2011-12 and industry expects same may be reinstated to 4 per cent.

• "Tissue Papers", "Vegetable Parchment, Greaseproof Papers, Glassine Papers and other Glazed Transparent or Translucent Papers" and also "Paper and paperboard, coated, impregnated or covered with plastics (excluding adhesives)" should be put at par with other varieties of paper & paperboards.

• The excise duty @1 per cent in Budget 2011-12 on which there was no duty imposed on exempted goods poses disposal burden by paying duty on fly ash, sludge etc. The industry wish to withdraw 1 per cent duty in budget 2012-13

• At present CENVAT credit on Capital goods, 50 per cent excise duty paid can be availed immediately and balance in next financial years. 100 per cent credit should be allowed in first year itself.

• The unutilised CENVAT credit at month end, should be refunded, instead of carrying forward (Like in case of 100 per cent EOU)

• The rate of interest for delayed payment of duty was increased from 13 per cent to 18 per cent w.e.f 1.04.2011, may be reinstated to 13 per cent.

• Presently levy is under separate Heads, like basic Excise duty, Cess and Education cess. For sake of simplification, all such levies be collected under one Head/Single account.

• The time limit of 31.03.2010 for eligibility of deduction under U/S 80IA for power generation / distribution should be extended upto 31.03.2020.

• The expired rates of DEPB should be maintained under the Duty Drawback regime as well.

• CST rate should be brought down from current level of 2 per cent to 1 per cent.

• Financial assistance from Government in terms of soft loans or subsidies to assist the mills to modernise and upgrade their technological status.

Budget Impact

Given the oversupply and weak domestic demand, the paper and paperboard players will be unable to pass on the entire increase in duties, and will see a further drop in their EBITDA margins. Part of these adverse impact will be moderated by the benefit from removal of custom duty on coal. Coal is used in paper industry for producing steam and power.

Outlook

Due to a shortfall in linkage coal, the paper companies are currently resorting to costly imports of coal. Reduction in custom duty on coal will be huge relief for sector, and bring down fuel costs to some extent. The removal of customs duty on imported Waste paper, which is used as raw material, will bring smile on paper manufacturer's face. The government continues its focus on education sector this year also, which is good news for Paper Industry. Overall, the budget was positive for the Industry.