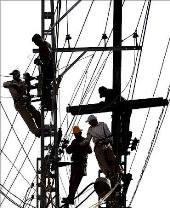 Union Budget 2012-13 has been a great disappointment for the Power Plant Equipment makers who were drumming up for imposition of import duty of 14%-19% on mega/UMPP projects, which currently allows concession duty imports.

On the other hand they were saddled further with 2% hike in excise duty and service tax.

The little solace they could take is easing norms so as to funding to power sector more attractive thereby addressing the fund crunch for the sector.

Budget Proposal

Status quo on concessional import duty for mega/UMPP power projects

Subject to end use condition the basic customs duty on boiler quality tubes and pipes for manufacture of boilers reduced from 10% to 7.5%.

Exemption from SAD currently available to CRGO steel is being restricted to prime quality of such steel.

Equipments for setting up of solar thermal projects are being fully exempted from SAD.

Concessional rate of 5% basic customs duty is being extended to raw materials for the manufacture of intermediates, parts and sub-parts of blades for rotors for wind energy generators.

Full exemption on basic customs duty for Natural gas / Liquefied Natural Gas imported for power generation; uranium concentrate, sintered natural uranium dioxide, sintered uranium dioxide pellets for nuclear power generation and Steam coal (only upto 31/3/2014) is to make imported fuel cheaper for power plants. CVD on steam coal is also being reduced from 5% to 1% on such coal.

Propose to continue to allow repatriation of dividends from foreign subsidiaries of Indian companies to India at a lower tax rate of 15% as against the tax rate of 30% for one more year i.e. upto March 31, 2013.

Extends weighted deduction of 200% for R&D expenditure in an in-house facility beyond March 31, 2012, for further period of 5 years.

Propose extension of the sunset date by one year for power sector undertakings so that they can be set up on or before March 31, 2013 for claiming 100% deduction of profits for 10 years.

Duty structure


| | | | | |
| --- | --- | --- | --- | --- |
| Item | Excise Duty (%) | Customs Duty (%) | Excise Duty (%) | Customs Duty (%) |
|   | 2011-12 | 2011-12 (Basic + CVD+SCVD) | 2012-13 | 2012-13 (Basic + CVD+SCVD) |
| Mega Power Projects (9801) | NIL* | NIL+NIL+NIL | NIL* | NIL+NIL+NIL |
| Expansion of existing Mega Power Project (9801) | 10 | 2.5+Nil+NIL | 12 | 2.5+Nil+NIL |
| UMPP of 3960 MW or above base on Super-critical coal thermal technology and tied up through tariff based bidding | NIL* | NIL+NIL+NIL | NIL* | NIL+NIL+NIL |
| Nuclear Power projects of capacity 440 MW or more (9801) | 10 | NIL*+NIL+NIL | 12 | NIL*+NIL+NIL |
| Projects financed by World Bank / Asian Development Bank / other International Organisations | NIL* | NIL+NIL+NIL | NIL* | NIL+NIL+NIL |
| Power generation projects including gas turbine power projects (excluding captive power) (9801) | 10 | 5*+10+4 | 12 | 5*+12+4 |
| Goods required for setting up of a project for power generation using non-conventional materials. | NIL* | 5*+NIL+4 | NIL* | 5*+NIL+4 |
| Machinery including components or raw material for manufacture of aforesaid machinery for initial setting up of a power (98010013) | 10 | 5*+10+4 | 12 | 5*+12+4 |
| Industrial Boilers (8402, 8403) | 10 | 7.5+10+4 | 12 | 7.5+12+4 |
| Major raw-materials & components |   |   |   |   |
| Auxiliary plant i.e. economiser, condensers etc for Boilers | 10 | 7.5+10+4 | 12 | 7.5+12+4 |
| Seamless Steel Tubes (730490) | 10 | 10+10+4 | 12 | 7.5+12+4 |
| Boiler Feed Pumps | 10 | 7.5+10+4 | 12 | 7.5+12+4 |
| Non alloy steel plates (72) | 10 | 5+10+4 | 12 | 5+12+4 |
| Alloy steel plates (72) | 10 | 5+10+4 | 12 | 5+12+4 |
| Pressure reducing/control Valves (848110, 84818030, 848130) | 10 | 7.5+10+4 | 12 | 7.5+12+4 |
|   |   |   |   |   |
| * by notification |   |   |   |   |
Budget wish list
Customs duty on tubes and pipes should be reduced from 10% to 7.5% on when imported for manufacture of boilers.
Import of power generation plant equipments under 0% category for mega power project and UMPP and others should be removed.
Impose 4% SAD on all types of projects and others which involve import of capital goods.
Stocks to watch
BHEL, BGR Energy, Thermax, Larsen & Toubro
Outlook
Status quo on concessional import duty for mega and UMPP power projects means the domestic players who are augmenting their capacity continue to face strong competition in the domestic market unless otherwise the tender conditions mandate of domestic manufacture.
The 15% cut on withholding tax on interest payment on ECB for three years between July 1, 2012-July1, 2015 as well as allowing ECB to part finance Rupee debt of existing power projects will ease the financing headache for power plant developers.
BHEL is in the process of modernizing its captive seamless steel tube plant at Trichy.
So, it will gain with the 2.5% cut in customs duty as it has to rely more on imports especially for supercritical grade tubes as well as other boiler manufacturers of supercritical range.
On the other hand the extension of concessional rate of 5% basic customs duty to raw materials for the manufacture of intermediates, parts and sub-parts of blades for rotors for wind energy generators will benefit Suzlon.
However, the reduction in customs duty will be more beneficial to foreign MNCs operating in India.
Overall the industry continue to contend with high competition on the back of no import duty for mega power projects and no road map for addressing power sector development bottlenecks such as land acquisition, financial mess of SEBs etc which would have enhanced the food on the plate there by reducing the competition.
Union Budget 2012-13: Complete coverage