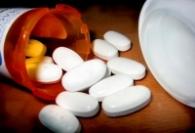 The Union Budget has proposed to extend concessional basic customs duty of 5 per cent with full exemption from excise/countervailing duty to six specified life-saving drugs and vaccines, even as the stress has been laid on vaccine security.
Finance Minister Pranab Mukherjee has proposed to reduce basic customs duty on soya protein concentrate and isolated soya protein to 10 per cent from the present 30 per cent and 15 per cent respectively and basic customs duty and excise duty on iodine has been reduced from 6 per cent to 2.5 per cent.
The basic customs duty has been brought down to 5 per cent from 10 per cent in the import of probitics.
Stressing on eradication of disease and prevention, the government plans to set up new vaccine units in the country and modernise the existing ones. The 2012-13 Budget has proposed setting up of a new integrated vaccine unit near Chennai.
Buoyed by no polio cases in the last year, Finance Minister Mukherjee was emphatic that the government will achieve vaccine security.
The Finance Minister has also enlarged the scope of Accredited Social Health Activist's (ASHA) activities to include prevention of Iodine Deficiency Disorders, ensure 100 per cent immunisation and better spacing of children.
He also said the Pradhan Mantri Swasthya Suraksha Yojana is being expanded to cover upgradation of seven more government medical colleges.