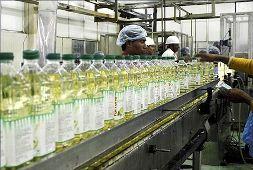 The Oilseeds production in the country is stagnant at around 27-28 million tonnes and the productivity at 950/1000 Kg. per hectare.

The country is heavily dependent on import.

Last year (2010-11), country had to import 87 lakh tonnes of vegetable oils at the cost of over Rs. 40,000 crore (Rs 400 billion).

During the current oil year (2011-12), we will be forced to import over 90 lakh tonnes of vegetable oils valued over Rs. 50,000 crore (Rs 500 billion) to bridge the gap between the demand-supply.

Our dependence on import of vegetable oils has increased to over 55 per cent.

It is a matter of grave concern with regard to food security and the country can ill afford to depend so heavily on import of such an essential food item.

In view of this, Solvent Extractors Association of India had made various suggestions including following:

1. Pulses & Oilseed Villages -- Greater Allotment

2. Weighted Deduction for Oilseeds Extension Programme

3. Re-alignment of Tariff Value for Edible Oils

4. Import Duty on RBD Palmolein to nullify the disadvantage faced by local vegetable oil refiners due to Indonesian inverted export duty structure.

5. Withdraw the export duty on deoiled rice bran

It is welcome to note that the Finance Minister has focused on agriculture sector and has proposed 150% tax deduction for agricultural extension activities.

It is unfortunate that in the budget Hon'ble Finance Minister has not proposed any new measures to reduce our dependence on burgeoning
imports of edible oils.
With no change in tariff value in RBD Palmolein, the effective rate of custom duty will continue to be at around 3% as against the intended custom duty of 7.5%.
Also, there is no incrase in custom duty on import of RBD Palmolein, which was requested for by the Association to counter the inverted duty structure of Indonesian Government for CPO (16.5%) RBD Palmolein (8%).
This is evident from the fact that import RBD Palmolein already jumped up from monthly average of 1,00,000 tonnes to 3,00,000 tonnes in the month of Feb.
This will surely call a death knell for Indian domestic vegetable oil refining industry.
This will also cause unemployment of more than 1 lakh people directly and affect more than 5 lakh people of ancillary industries.
Apart from this, huge investment of nearly Rs 10,000 crore (Rs 100 billion) will be forced to remain unproductive.
This will also cause a major shortage of the byproducts obtained from Palm oil refining, which are used extensively in the manufacture of soaps and other oleochemical products, thereby affecting seriously, the future of those industries and also the consumers of these products.
The Industry is greatly disappointed with the budget proposals as no concrete measures have been suggested in the Union Budget for improving the oil seed production or its productivity and also no measures have been taken to ensure safety of the domestic vegetable oil refining industry against large scale import of finished good i.e. refined palmolein.
Union Budget 2012-13: Complete coverage