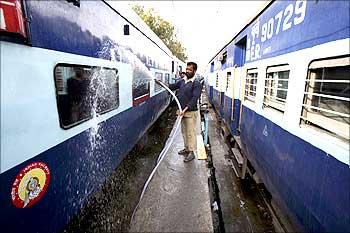 Indian Railways will recruit 100,000 employees in 2012-13 to overcome a disturbing staff crunch in technical and safety-related areas.

With 1.36 million employees, the railways are one of the country's biggest employers, constituting 28 per cent of the total central government employees.

Of late, a large number of vacancies in various categories of staff, including in the technical and safety-related areas, has had an adverse impact on the organisation's operational and safety performance, according to Railway Minister Dinesh Trivedi.

"With these recruitments, Indian Railways will also be wiping out the backlog vacancies of SC/ST/OBC and physically challenged persons -- and complying with the instructions of DOP&T," he said in the Budget speech.

The minister also unveiled a proposal to include two new members on the Railway Board: a member in charge of public-private partnership and marketing and another in charge of safety.

The renewed focus on recruitment comes at a time when the Anil Kakodkar committee's safety report given last month pointed out towards a shortage of safety staff of around 200,000.

The 2012-13 Budget has, thus, addressed the safety issue well.

In the current FY12, the railways recruited 80,000 employees, against a Budget target of 29,000 employees announced by the then Railway Minister Mamata Banerjee.

According to estimates, recruitments in Group C and D will see the wage bill go up by around Rs 2,000 crore (Rs 20 billion).

According to estimates, there is backlog of recruitment of around 250,000 employees.

According to officials, from 2012-13, notification would be issued every July for filling the anticipated number in these categories.

This will be to ensure that there was no backlog, said officials.

The recruitment process would be over by around October.

The annual Plan outlay for 2012-13 has been targeted at Rs 60,100 crore (Rs 601 billion).

Ordinary working expenses are estimated at Rs 84,400 crore (Rs 844 billion), which is 11.6 per cent higher than the current year to meet additional liabilities along with an appropriation of Rs 18,500 crore (Rs 185 billion) to pension fund.

In recognition of the commitment of the employees to the organisation and their contribution to increasing the productivity, Indian Railways paid the Productivity-Linked Bonus equivalent to wages of 78 days for 2010-11, said Trivedi.
In 2011-12, half the net working expenses (Rs 73,650 crore or Rs 736.5 billion) was budgeted as staff cost.
The railways spent around 42 per cent of their earnings in wages and allowances and another 17 per cent in pensions in 2009-10.
Union Budget 2012-13: Complete coverage